Realities of Reconstruction Conference
Description
Join us for the inaugural "Realities of Reconstruction Conference" to be held at the new
Mather Museum & Interpretive Center
Beaufort, SC in the Gullah/Geechee Nation
Beaufort County is now the location of the new multi-site Reconstruction Era National Monument. The "Realities of Reconstruction Conference" will engage those interested in learning more about this largely untold story of the initial steps taken into freedom by the formerly enslaved Africans. Interactive sessions and films about the Reconstruction Era and the part that people of African descent played as well as how they suffered due to political and financial setbacks will all be part of the dialogues at the "Realities of Reconstruction Conference."
Friday, the "Realities of Reconstruction Conference" will begin with a tour of the new Mather Museum & Interpretive Center followed by "De Gullah/Geechee Reconstruction Storee Tour" led by Queen Quet, Chieftess of the Gullah/Geechee Nation (www.QueenQuet.com).
Saturday, the Reconstruction Luncheon and interactive conference sessions will take place at the site of the Mather School which was established during the Reconstruction Era. The sessions will conclude in the late afternoon and a closing celebration will take place on historic St. Helena Island, SC with the local Gullah/Geechee community.


Sunday, conference participants are encouraged to attend worship services at one of the churches affiliated with the Reconstruction story. At 2 pm, a caravan will depart from the Gullah/Geechee Visitors Center in order to go to a ceremony in honor of the Combahee River Raid which was led by Harriet Tubman and Colonel Montgomery during the United States Civil War.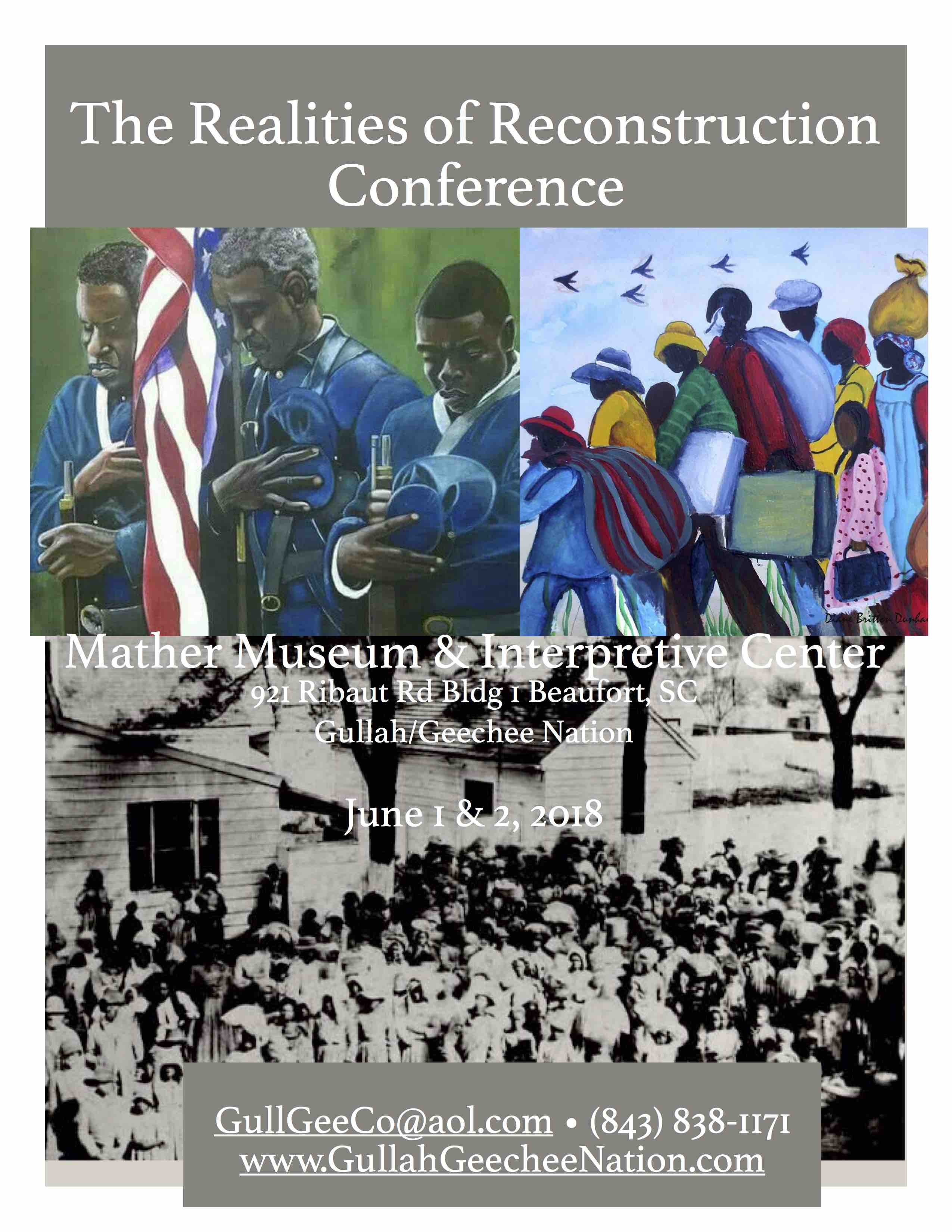 Flyer art by Dianne Britton-Dunham and Nizar Ahbir.


Pre-Registration is required. No on-site registrations will be done. Proceeds will benefit the Mather Museum & Interpretive Center and the Gullah/Geechee Sea Island Coalition.