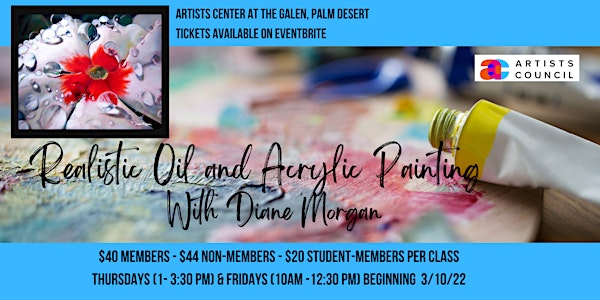 Realistic Oil & Acrylic Painting with Diane Morgan
Learn or expand your skills in this weekly class with Diane Morgan as she guides you in the skill of oil/acrylic painting realistic style.
When and where
Location
Artists Center at the Galen 72567 Hgwy 111 Palm Desert, CA 92260
Refund Policy
Refunds up to 7 days before event
About this event
Realistic Painting: Oil and Acrylic Painting with Diane Morgan
Most Thursdays 1:00 PM to 3:30 PM and Fridays from 10:00 AM to 12:30 PM beginning March 10, 2022
Please carefully check ticket dates
In-Person Workshop at Artists Center at the Galen
72567 Hwy 111, Palm Desert, California
$40.00 Members - $44 Non-Members - $20 Student Members* per class.
* To qualify for a student member discount, you must be an Artists Council member and enrolled FULL TIME in a community college, art school, or 4-year college. Must be 18 years. Student ID required. To join see: https://www.artistscouncil.com/join
Masks optional at this time.
Beginning to intermediate skill levels and beyond.
Get started or improve your painting skills creating a realistic painting with strong color and impact using oil or acrylic. You may paint in the demonstration piece or work from your own photos if you prefer. Each student will receive one-on-one guidance along the way. Diane Morgan is an award-winning painter with many years of teaching experience. See Materials List below
Basic supplies for Diane Morgan Oil/Acrylic class
Oil Paint or Acrylic colors.
Instructor recommends water-soluble oils that clean with water. Windsor & Newton, Holbein water-mixable oils , or LUKAS Berlin , are acceptable brands for class. If you prefer regular oils, you will need Gamsol for cleaning brushes or Dawn detergent, which also works.
Just about any acrylic brand is fine. Acrylic is inexpensive. Purchase your acrylics in the tube kind rather than other formulations. FYI: Golden Open acrylics and Golden Heavy Body acrylics stay blendable longer and don't dry as fast.
Colors Needed for Class: Cadmium red (medium), Cadmium orange, Alizarin crimson, Cadmium yellow, Cobalt blue, Sap green,Titanium white (large tube), Payne's Grey, Black (if desired).
Gesso for thinning acrylic or other thinning medium. Extender for lengthening drying time of acrylic
Brushes
Synthetic multi-purpose for oil or acrylic. Instructor recommends Silver Ruby Satin brushes and prefers filberts over flat. Personal preferences vary. Sizes: Filberts 4, 8, 10, 20 and larger if you like, or same sizes in Rounds if you prefer that style brush.
Blenders brushes (soft). Watercolor brushes and even makeup brushes.
Other Supplies
If you use prefer to use regular rather than water-soluble oils, bring Turpentine along with a glass jar with secure lid. Remember: Turpentine must be disposed of at a hazardous waste facility. You can also use Murphy's oil soap or dish soap for cleaning instead of turpentine.
Gamblin Gamsol Odorless Mineral Spirits if you use regular oils.
Palette Knife (medium size)
Disposable Paper Palette or a butcher tray
Canvas Boards or stretched canvas
Glass Jar for thinner storage for oil cleaning
Rags / Paper Towels
Some kind of a spray bottle for water
If you have further questions please contact the instructor at www.dianemorganpaints.com
760-902-8855