About this Event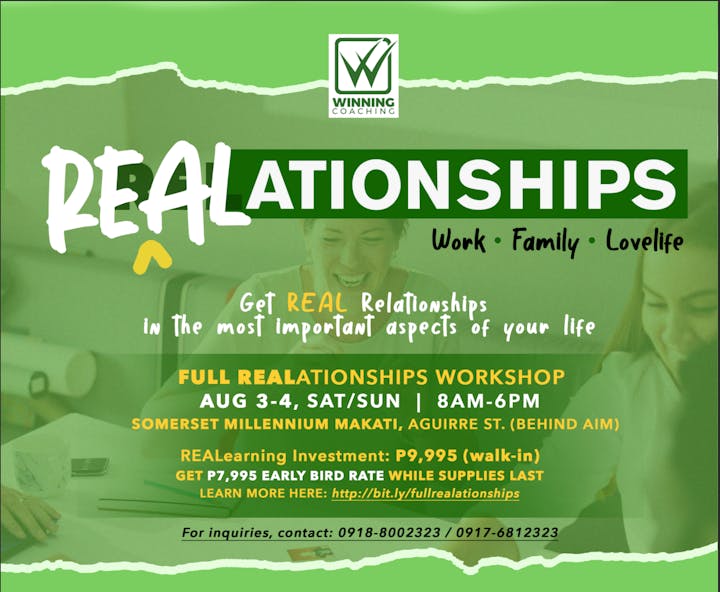 Once upon a time, I joined a Multi National Company. I very soon got into odds with a colleague who would always argue with me in meetings. She became an "archenemy" who later became a good friend. A year later, she left our company to migrate. She spent 13 years in the company.
I wanted to learn from her so I asked ... "In your 13 years in this company, what's one big lesson you've learned?"
She replied: "After all the meetings, proposals, projects, sleepless nights, awards, team buildings, training, parties, bonuses and everything in between ... it all boils down to this: RELATIONSHIPS.
"What to do with all the awards if your relationships suck? What to do with all the money if your relationships suck? What to do with your travel adventures if your relationships suck?
"If you don't have REAL meaningful relationships at work, with family, in love life, you don't have anything."
Words to live by.
In this seminar FULL REALationships, we will teach you the specific Life Coaching tools that help our clients have REAL relationships at work, with family and in love life whether present or future.
@ Work: 
* No career progress
* Feel unsupported (feel alone) in handling problems at work
* Feeling that your skills/talent/time is under-utilized; 
* Feeling unfulfilled; 
* Feeling that there's so much more to life than what you're doing day-in, day-out. 
* Being stuck, no clear career growth path
w/ Family: 
* Due to lack of communication, not able to do what I want
* Not getting the support I need from my loved ones
* Sleepless nights
* Something is lacking, feeling unfulfilled
* Lack of trust among family members
* Fear of being judged by family members
in Love Life (whether current or future ... or past!) 
* Lack of a fulfilling Love Life
* For some, it is the lack of a romantic relationship
* For others, it is the lack of Romance in their relationship (Which situation are you in?) 
* Lack of companionship
* Desire to dream and experience life with a partner who enjoys life life you do
Join us and Get REAL!
FULL REALationships: at Work, Family, Lovelife
Your Facilitators:
Edwin S. Soriano
Coach Edwin is the Founder and Head Coach of Winning Coaching. We empower clients through Life Coaching and Training to unleash the best version of yourself.He is a Certified NLP Practitioner, Life Coach since 2008, Author of the book: "You Can Be Happy Again - Breakthrough Tips from a Life Coach"
Rezza Custodio-Soriano
Rezza brings with her a blend of over 13 years of Christian Counselling, 5 years of NLP Coaching. In July 2017, she is the first Asian licensed as Creatrix® Transformologist® for women.
On weekends, she serves as the Pastoral Council for the Feast Bay Area Council of Bro. Bo Sanchez, and regularly gives talks and workshops for various Discipleship Programs, including the Jesus Encounter and LoveLife Retreats.
Ning Tadena
"It is my mission to use my life experiences and knowledge to share learnings in NLP, Theta, Enneagram and Make-Up Artistry to people who want to learn about those things but don't have the time and money yet to really invest in taking the full courses. My aim is to help people open their perspectives and see the different choices they have available for them, no matter what the situation is."
-Coach Ning
Learn more:
facebook.com/winningcoaching
facebook.com/coachedwinsoriano