Description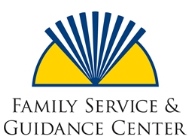 Nothing is tougher than watching your child struggle. If your child lives with depression – or if you worry that they may be depressed – and if you're at a loss for how to help them, this is for you.
FSGC will present a free program, "Helping Your Child Cope with Depression," on Thursday, March 21 from 6:30-8 p.m. at our 327 S.W. Frazier location. This is the first installment of "Real-World Parenting," a series of talks open to the public and designed to offer practical strategies for parents of children faced with emotional and social issues.
Parents will learn signs of depression and ways to talk to your children to get them to open up a line of communication. Parents will also gain tools to be more comfortable asking about self-harm and suicidal thinking. Finally, the presenters will share resources in the community that parents can depend on to help their child.
This is a parent-only event, and childcare will not be available.
Seats are limited, so register today at FSGCparenting.eventbrite.com. For more information, contact Jim at jwilliamson@fsgctopeka.com or 270.8907.