Description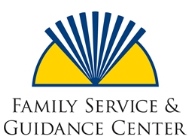 Anxiety in children and teens shows itself in a lot of different ways.
Jayla never raises her hand in school. People think she's just quiet.
Mikey can barely speak to his teachers. People think he's shy.
Dante avoids doing math problems on the board in front of the classroom. People think he's slow.
Morgan worries about everything, all the time -- even things that haven't happened yet. People think she's pessimistic.
T.J. suffers from unexplained aches and pains a lot. Some days he refuses to get out of bed and go to school. People think he's defiant and lazy just wants to skip school.
In the second installment of Family Service & Guidance Center's "Real-World Parenting" series, we'll focus on how to identify anxiety; the basics of how it's treated; and what to do to help your child conquer it.
Parents and caregivers will gain an understanding where anxiety comes from and will be better able to tell anxiety from other issues, like fear, depression, anger, etc. You'll also leave with tools for helping your child overcome their anxiety and information on where to go for help.

Childcare will not be provided. Seats are limited, first-come, first-served! Register today!