Real Wealth Talk Series is presented by BWS and designed to meet folks where they are on their personal wealth journey.
About this event
Knowledge is power when it comes to growing and preserving wealth for you and your family. This FREE pre-Summit webinar series presents best-in-their-class speakers. Get a sneak preview of the kind of carefully curated content provided by Black Wealth Summit that speaks directly to Black people. Join us starting on September 29 in the run-up to the October 20-22, 2021 Summit. Reserve your spot for all sessions of BWS Real Wealth Talk: Curated Content that speaks directly to Black People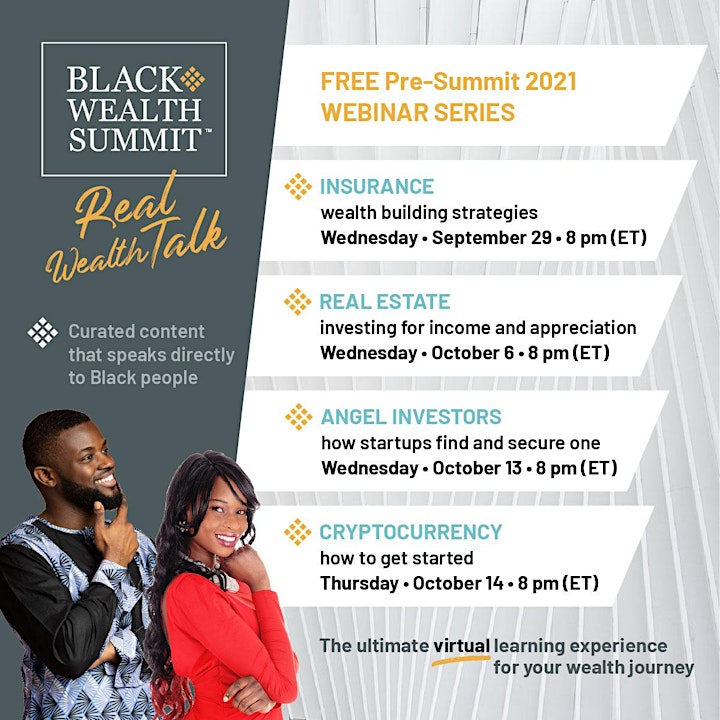 Organizer of Real Wealth Talk Series
Black Wealth Summit: Unapologetically Invested in the Prosperity of Black People
BWS is a first-of-its-kind opportunity to develop wealth literacy through access to comprehensive information in four focus areas: Entrepreneurship, Securities: Stocks & Bonds, Real Estate, and Private Equity. We are purveyors of trusted tips, tools, information, and networking to help Black people along their wealth journey. We partner with a cadre of financial powerhouses to make their curated wealth curriculums available within the BWS learning framework.