Description
We're excited to announce our next event: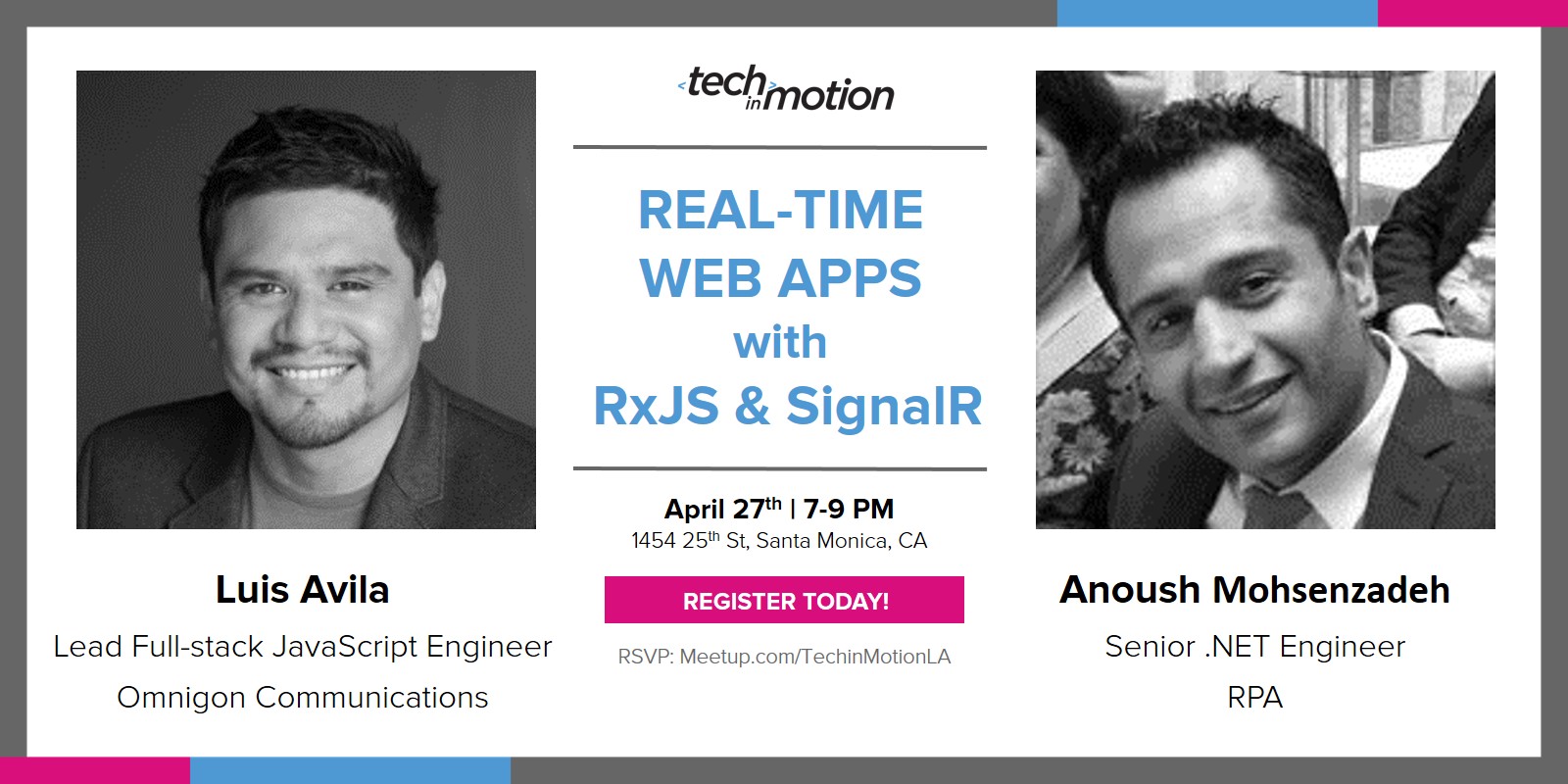 Join two experienced software engineers, Luis and Anoush as they explore mixing Angular with .NET in this FREE Tech Talk & Live Coding Demo event!
Date: Thursday, April 27th

Time: 7 PM – 9 PM
Location: 1454 25th St, Santa Monica, CA 90404
Event Schedule:
7 PM | Check-in
The evening will kick off with Networking with light appetizers, beer & wine
7:30 PM | Welcome from Tech in Motion & Breather
7:35 PM | Luis & Anoush Take the Stage
8:15 PM | Audience Q&A
8:30 PM | Networking
9:00 PM | Event Ends
Luis & Anoush will do a live coding demo mixing Anuglar with .NET and speak to a backend docking experience. You'll be able to see what it's like when two engineers are coding and communicating challenges in real time to an inventory management system that they created themselves for this event!
Speaker Bios:
Luis Avila
Luis is a Full-Stack Architect with over 15 years of programming experience, the last five years specializing in the MEAN stack (MongoDB, ExpressJS, AngularJS, NodeJS). He is also a serial entrepreneur, with a successful exit, and a 500 Startups accelerator program alum. He loves building products, javascript, cooking, and driving cars... fast... in the mountains... and on a track. Never cross double yellow lines.
Anoush Mohsenzadeh
Anoush's background is mostly focused in various Microsoft technology including .NET, he has BS degree in Computer Engineering, Electronic Engineering, Computer Science minor and Master of Business Administration in organization behavior. He has been working as Software Engineer since 1997. He has experience managing his own consulting company, in the various industries like working for Wells Fargo, HP, Microsoft, Quadramed and contracting as Senior .NET Engineer at RPA. Anoush has a plethora of knowledge from computer hardware, to design, development, to C#, Java and Security.
Learn first-hand from these talented developers on Thursday, April 27th and don't forget to bring your computer to follow along!
---
Thanks to our venue partner Breather!
Our venue partners at Breather would love to share a special promo with Tech in Motion LA members. You can use code TECHINMOTIONLA that's worth 20% off any booking until June 31st!
For questions about bookings call or email Kirtley Baker at 805-284-2142 or kirtley.baker@breather.com.
---
Join the online conversation with #techinmotion and @Tech_in_Motion!
Did you know ... Tech in Motion's network has over 2,500 open tech jobs available today across North America? Join over 78,000 tech professionals throughout 11 major metropolitan cities at one of our upcoming events. Want to see what to expect at a Tech in Motion event? Check out the video here.
Reach out to the LA organizers if you are interested in sponsoring an upcoming event!

Tech in Motion is sponsored by two IT Staffing Agencies,Workbridge Associates and Jobspring Partners. No outside recruiters will be permitted at this event.