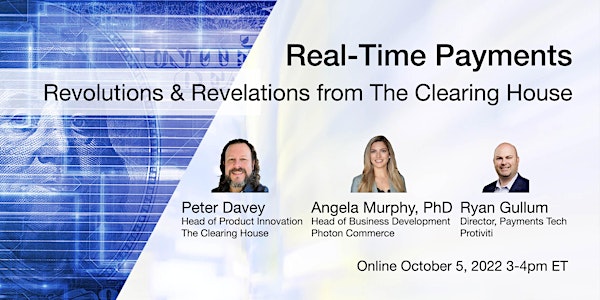 Real-Time Payments: Revolutions and Revelations from The Clearing House
Real-Time Payments from The Clearing House are the next revolution happening in banking, commerce, and finance
Refund Policy
Contact the organizer to request a refund.
Eventbrite's fee is nonrefundable.
About this event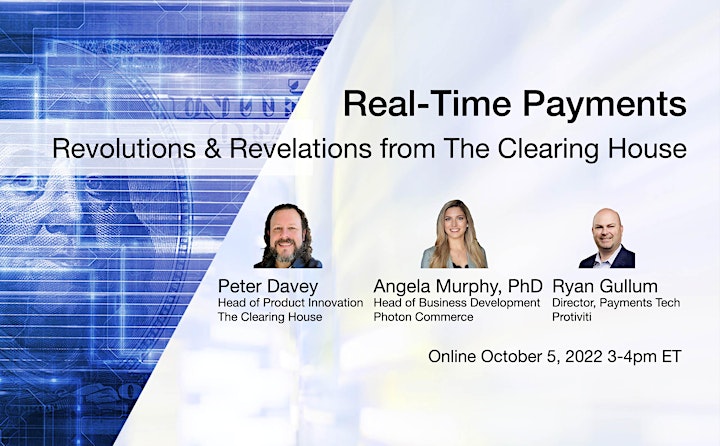 The Real-Time Payments network has just launched its limit of $1 million per transaction this year.
With the ongoing evolution and revolution of payment preferences, there will be an impact on major card networks, Visa and Mastercard, and commercial and retail payments.
Hear from thought leaders Peter Davey (Head of Product Innovation at The Clearing House), Dr. Angela Murphy, PhD (Vice President of Business Development at Photon Commerce), and Ryan Gullum (Associate Director of Payments Technology Consulting at Protiviti) about how instant payments is transforming industry.
About the speakers:
Peter Davey leads product innovation at The Clearing House where he is responsible for working with financial institutions and key partners across the industry to foster new and innovative concepts that propel the banking and payments industry forward. Peter is an accomplished executive, industry thought leader, influencer, futurist and corporate strategist across the disciplines of payments, banking and financial services. He has a wide breadth of experience in the banking and payments industry across all payment types, services and networks. A proven track record of establishing payments governance, building consensus around payment strategies and providing subject matter expertise and thought leadership in many industry forums.
Angela Murphy, PhD, leads business development and strategy at Photon Commerce. She is a thought leader in B2B payments, fintech, credit cards, partnerships, and innovation strategy. She commercialized one of the largest closed-loop card products and invoicing networks in the US and currently works at the intersection of strategy and insight in the payments industry. Angela regularly provides lectures for the University of Berkeley and consulting firms around the world and is a Founding Fellow of Coruzant Technologies. She earned her PhD from the University of Kansas.
Ryan Gullum is an Associate Director of Payments Technology Consulting at Protiviti. His career has spanned 20+ years in the Payments and Financial Services Industry, and is a thought leader in Faster Payments, traditional ACH Payments, fintech and payments strategy. Ryan is a current member of the US Faster Payments Council and its working groups. Protiviti is a global business consulting firm that delivers deep expertise, objective insights, a tailored approach and unparalleled collaboration.