Description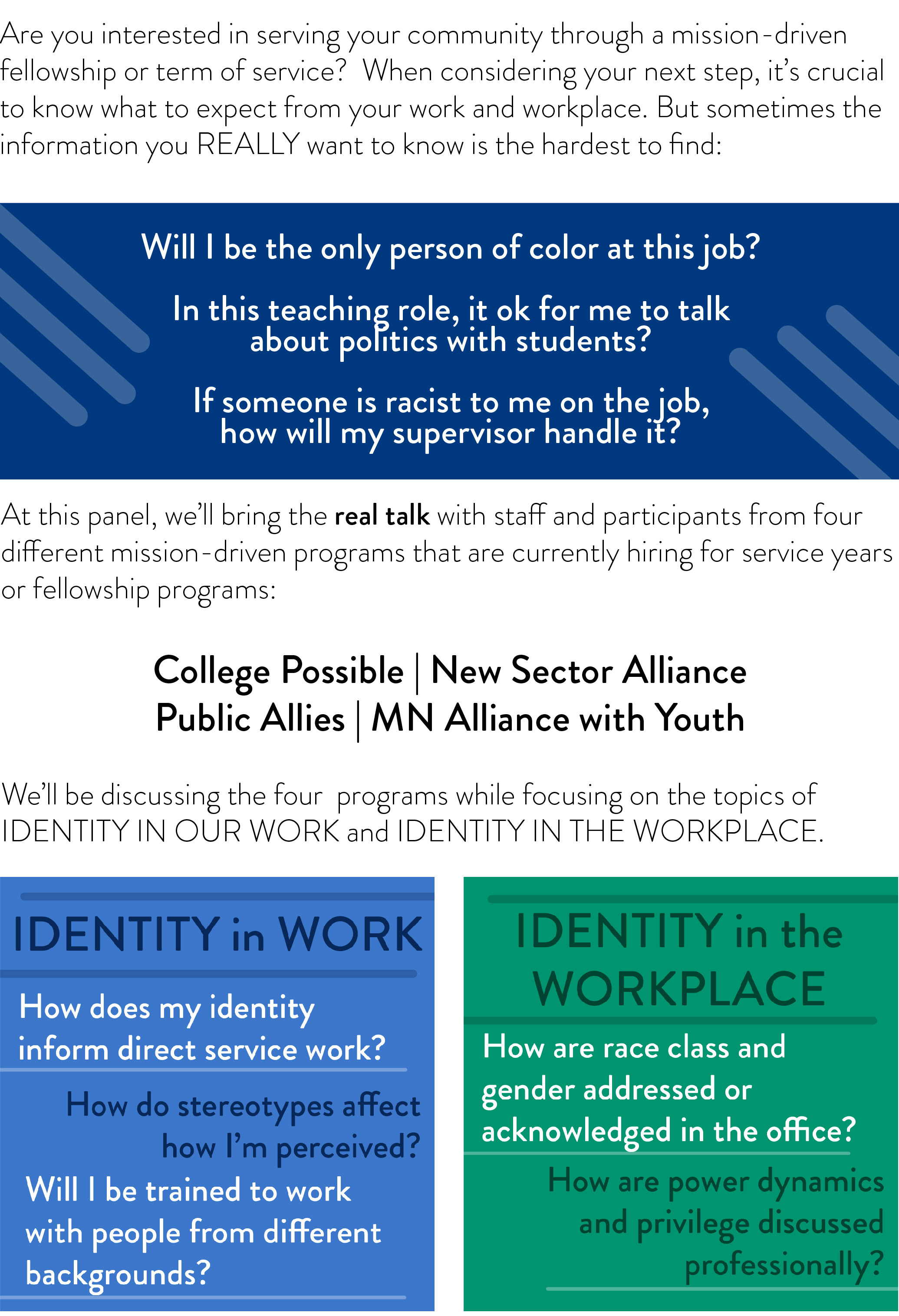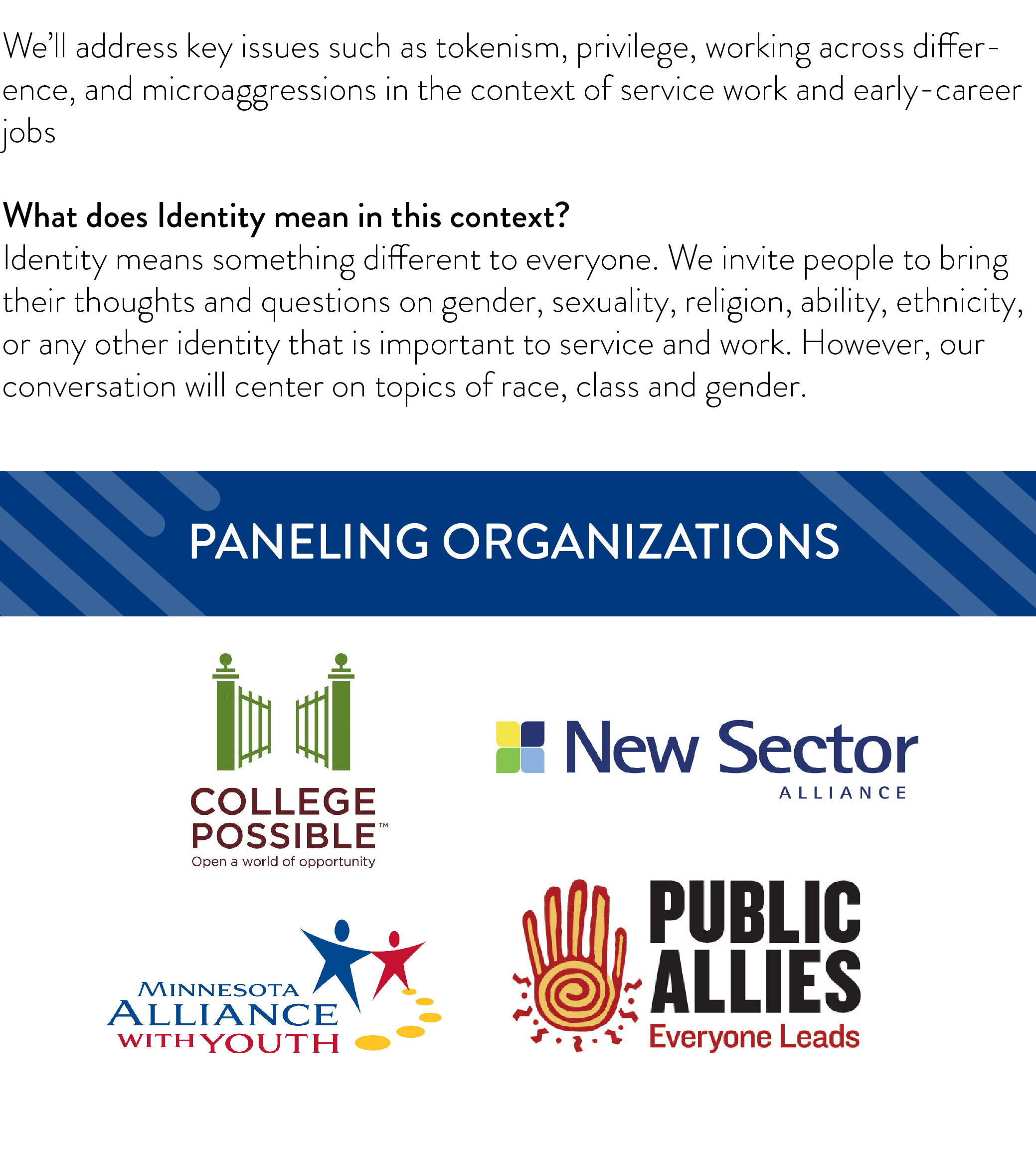 College Possible is a growing nonprofit dedicated to helping low-income students get to and through college. We are powered by AmeriCorps and VISTA members who help high school students earn admission to college, support college students to graduation, and do indirect service in event planning, communications, fundraising, and human resources. Full-time AmeriCorps and VISTA positions with a 10 to 12 month commitment are available in the Twin Cities, Milwaukee, Omaha, Chicago, Philadelphia, and Portland beginning in August 2017. Final deadline to apply is May 15th. Learn more and apply.
New Sector Alliance: Through intensive fellowships New Sector Alliance prepares emerging talent from across the nation for high-impact careers in the social sector. For over a decade, we have supported emerging leaders who go on to outstanding careers in social impact. Our fellowship programs place Fellows in full-time employment while simultaneously supporting them via mentorship, training, coaching, and peer-learning. We are currently hiring for our 17-18 RISE Cohorts in Chicago, Twin Cities, Boston, and San Francisco. Deadline to apply is May 22nd. Learn more and apply.
Public Allies Twin Cities is a national AmeriCorps program that provides a leadership pipeline for diverse young adults by preparing leaders from underrepresented communities for successful careers, higher education, and civic engagement. Our mission is to create a just and equitable society and the diverse leadership to sustain it. We are changing the face and practice of leadership in communities across the country by demonstrating our conviction that everyone can lead, and that lasting social change results when citizens of all backgrounds step up, take responsibility, and work together. Our vision is a more perfect Union that includes all of us. We believe this mission and vision can be fulfilled when leaders from all walks of life, all backgrounds and beliefs, and all corners of the globe operate from a core set of values and values-based practices.
Allies are prepared for leadership through a 10-month apprenticeship and training focused on values-based leadership development and in nonprofit management technical skills. Learn more and apply.
Minnesota Alliance with Youth: Since 1997, Minnesota Alliance With Youth has been working with young people, their schools, and communities to ensure that innovative approaches inspire academic and civic engagement. In 1999, the Alliance launched the AmeriCorps Promise Fellow program which has become a statewide initiative to support students to get on track or stay on track to graduate from high school. In In 2016, the Alliance expanded service opportunities to include VISTA to build the capacity of youth focused organizations that actively engage youth as agents of change in their communities and work on issues of educational inequality and poverty alleviation.
The Alliance is Minnesota's leading youth development capacity-builder, convener, and collaborator. The Alliance catalyzes communities, to help all Minnesota youth graduate from high school with plans for ongoing success in school, work, and life. The Alliance is hiring for both direct and indirect service positions. Our AmeriCorps opportunities can be found on our website at www.mnyouth.net