Description
HubSpot is proud to partner with City Awake for the first ever Fierce Urgency of Now community festival. Join us for an evening of real talk, not small talk.
Enjoy refreshments, snacks, and great company as you listen to a lecture from Dr. Robert Livingston of the Harvard Kennedy School on the circumstances that millennials of color face in the city of Boston.
We invite all folks, regardless of your personal identity and experience, to participate in this event to meet with and learn from others. Share your thoughts and follow the conversation online with the hashtags #RealTalkOnRace and #FUNinBOS
Schedule:
6:00 to 6:30p Registration and Refreshments
6:30 to 7:15p Lecture on Race from Dr. Robert Livingston
7:15 to 8:30 Real Talk Networking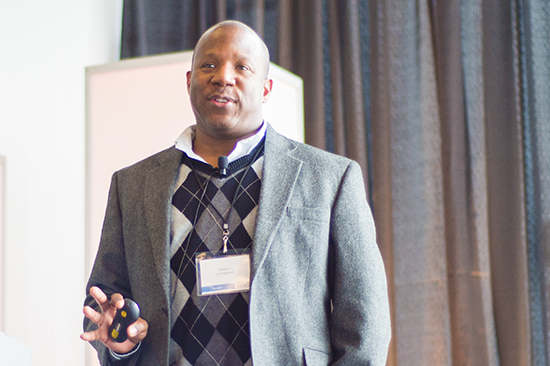 Dr. Robert W. Livingston
Dr. Robert W. Livingston is a Lecturer of Public Policy at the Harvard Kennedy School of Government. Prior to joining Harvard, he held full-time faculty positions at the University of Wisconsin-Madison, the Kellogg School of Management at Northwestern University, and the University of Sussex in England, where he was also Director of the Centre for Leadership, Ethics, and Diversity (LEAD).
Dr. Livingston's research focuses on diversity, implicit bias, workplace discrimination, leadership, and social justice. His work has been published in multiple top-tier academic journals such as the Journal of Personality and Social Psychology, Personality and Social Psychology Bulletin, Psychological Science, and the Journal of Experimental Social Psychology, and has been featured in prominent media outlets such as the New York Times, Wall Street Journal, Washington Post, BBC, Newsweek, Forbes, Bloomberg Businessweek, Financial Times, ABC News, The Guardian, CNN, Yahoo, and MSNBC. He has also authored several book chapters and co-edited an award winning book on social identity and intergroup relations (with Roderick Kramer at Stanford University).
What is the Fierce Urgency of Now Conference?
City Awake partnered with The Boston Foundation last year on a report - City of Millennials: Improving the Future Prospects of our Region and Its Young Adults - that validated a sentiment that has long been present in Boston: young people of color have an exeperience in Boston that diverges from their white peers.
The cornerstone of our strategy will be Fierce Urgency of Now (#FUNinBos), a community-driven experience. City Awake will convene organizations to host a community festival with the objective of highlighting the experiences, challenges, and possibilities of color in our city.
About HubSpot

HubSpot helps millions of organizations grow better by building the software and systems that power the world's small to medium-sized businesses. Our company culture builds connections, careers, and employee growth. How? By creating a workplace that values flexibility, autonomy, and transparency. Through our commitment to creating a diverse and inclusive workplace and unique approach to company culture (our Culture Code has more than 3M views), we've redefined how people work and live.
HubSpot has been named Best Place to Work in the eyes of Glassdoor, Fortune, Entrepreneur, Inc. The Boston Globe, and the Boston Business Journal. Founded in Cambridge, MA in 2006, HubSpot has offices in Portsmouth, NH; Dublin, Ireland; Sydney, Australia; Singapore; Tokyo, Japan; Berlin, Germany; and Bogotá, Colombia.
Questions? Email MObleada@hubspot.com
Our space is ADA compliant with accessible and gender neutral restrooms.