| | |
| --- | --- |
| REAL SCARY STORIES WITH RYAN BUELL (OCTOBER 16TH, 2012) | |
Who's Going
Loading your connections...
Event Details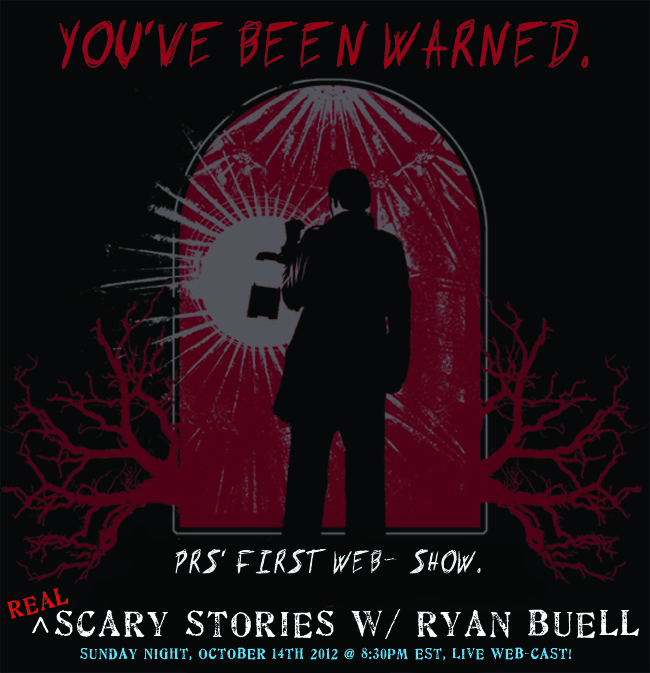 IMPORTANT NOTE:
WEB-CAST IS FREE FOR THOSE TAKING RYAN'S CREATIVE WRITING WEBINAR (PRS SI 362) & PRS BUREAU FIRST 200 MEMBERS.  IF YOU ARE A PART OF PRS WEBINAR 362 OR THE PRS BUREAU, PLEASE CHECK YOUR E-MAIL FOR SPECIAL INSTRUCTIONS ON HOW TO ENROLL FOR FREE.
-------------------------------------------------------------------------------------------------
TURN OFF THE LIGHTS
LOG ON
& TAKE A TRIP TO THE DARK SIDE OF NATURE
WHEN RYAN BUELL WAS SEVEN-YEARS-OLD, HE MOVED TO SOUTH CAROLINA.  ALMOST IMMEDIATELY HE BEGAN WITNESSING THE UNEXPLAINED.  IN ADDITION, PARANORMAL EVENTS STARTED TO FIND RYAN, FROM THE LIZARD MAN SIGHTINGS TO UFO ENCOUNTERS, RYAN MET OTHER EYE-WITNESSES TO STRANGE AND TERRIFYING ENCOUNTERS.  THESE REAL STORIES WILL MAKE UP FOR AN EVENING OF SPINE-TINGLING TALES.  YOU'LL THINK YOU'RE AROUND THE CAMPFIRE WITH RYAN!  THE STORIES INCLUDE:
- MOTHER'S FRIEND. RYAN HEARS A TALE STRAIGHT FROM A FRIEND OF HIS MOTHER, ABOUT AN ABDUCTION IN THE WOODS THAT WILL LEAVE YOU UP ALL NIGHT.
- THE THING ON THE CLIFF. ANOTHER FAMILY FRIEND TELLS RYAN ABOUT A NIGHT NEAR THE WOODS ON A MOUNTAIN-SIDE WHERE HE AND HIS FRIEND WERE VISITED BY A BEING.  THE EVENT ALMOST COST THEM THEIR LIVES.
- THE SMILER. MENTIONED BRIEFLY IN AN EPISODE OF "PARANORMAL STATE" ENTITLED "SCHOOL SPIRITS," RYAN GOES FURTHER IN TO ONE OF HIS EARLIEST ENCOUNTERS WITH THE SUPERNATURAL, A SMILEY-FACED APPARITION THAT KEPT HIM AWAKE FOR SEVERAL NIGHTS. THIS IS THE ONLY ENCOUNTER FROM HIS CHILDHOOD THAT RYAN HAS EVER TOLD AND WILL BE ELABORATED ON TO DATE, SO BE PREPARED!
- GHOSTS OF SALEM BLACK-RIVER! THE FIRST "OFFICIAL" INVESTIGATION BY RYAN AT AGE 16!  RYAN INVESTIGATES AN OLD CHURCH WITH A LEGEND OF A DYING PREACHER AND HIS CONDEMNED FAMILY.  THE INVESTIGATION RESULTS IN HIS VERY FIRST E.V.P.
- AND MORE! INCLUDING "TALL TALES OF A LIZARD MAN," "THE HAND" AND EVEN A SHORT HORROR STORY READ BY RYAN.

EVENT ALSO INCLUDES A 30-MINUTE Q&A!
--------------------------------------

HOW YOU WATCH: All you need is an Internet connection and a computer to watch!  We will give you a link where you will simply log in and it will stream to your computer.  When it comes to asking Ryan questions, there will be a chat box where you can submit a question live, or chat with others watching! 

Organizer
"PARANORMAL: THE EXPERIENCE" 2014 CANADA TOUR
TOUR SCHEDULE
OTTAWA
April 3rd / April 4th
TORONTO
April 5th / April 6th 
VANCOUVER
April 8th
CALGARY
April 10th / April 11th
EDMONTON
April 12 / April 13th
WINNIPEG
April 15th
HALIFAX
April 17th