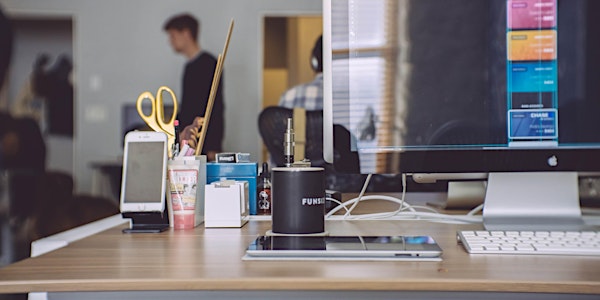 Real People Talk: Designing the Enterprise
When and where
Location
TechSpace 98 San Jacinto Blvd Suite 100 Austin, TX 78701
Description
About The Event

With pressure mounting for large organizations to continue the pursuit of design and the user, a new set of challenges has arisen. Team construction, prioritization, and communication have never been more important.
Real people talk about things that matter and Funsize is bringing that to the Austin community. In an effort to discuss what's often kept behind the veil, we're kicking off our discussion series with a topic that faces hundreds of us every day: Designing for the Enterprise.


Details
Join us to hear from some of Austin's top Design and Experience leaders on how they navigate the sometimes tricky waters of enterprise organizations. The discussion will center around Culture, Career Path and Professional Development as well as Hiring.
Culture plays a huge role in the strategic approach of design success. Much of design for Enterprise isn't about tangible design practices themselves, but rather how to deploy and employ them successfully in a variety of cultures


Cross-over functions can blur the lines of accountability. It's important for design teams to establish what they do and don't do in order to be successful


How do leaders craft a compelling growth path for their design team and help usher junior people into more senior roles


How can someone build an internal design center meant to refocus a company that hasn't prioritized design since its inception

Who is this event for

This event is open to the community and is great for people who are:
Currently leading a design team within a company
Working to position themselves to establish an internal design center
Currently working on a design team and wanting to understand more about the environment they're in
Looking to enter the design community and join an established company
About the Guests
Ryan Rumsey is a veteran Design leader with an interest in systems, platforms and humans focused on the enterprise. He's an advocate of both human-centered design and design driven innovation. He's a father, husband and an avid fan of the Liverpool Football Club. Currently, he's the Director of Experience Design at Electronic Arts

Annette Priest has helped teams around the world understand customers and focus on the right things to design. As a UX leader in R&D, Annette has been directly responsible for achieving major design milestones inside AT&T, GE, IBM, HP and more. As a psychologist and cognitive scientist, she moves designs forward and nurtures strategies that help organizations grow and mature. She consults independently with a wide array of clients and frequently speaks at business, technology and design conferences.
Greg Storey has more than 20 years of experience in digital design, leading teams through full-scale projects in a wide array of industries, including retail, education, law, and gaming. As an entrepreneur, Greg has founded three successful businesses, one of which was ranked in the Inc. 5000, a list of America's fastest-growing private companies. Greg's work has been recognized by The Webbys and W3 Awards and featured in Communication Arts and the Wall Street Journal. Today, Greg leads design practice for the IBM Design Incubator Program.

This event is offered in partnership with AIGA, an organization who advances design as a professional craft, strategic advantage, and vital cultural force. As the largest community of design advocates, we bring together practitioners, enthusiasts, and patrons to amplify the voice of design and create the vision for a collective future. We define global standards and ethical practices, guide design education, enhance professional development, and make powerful tools and resources accessible to all.

We're lucky to host with TechSpace, located in the heart of CBD, TechSpace Austin totals 28,000 square feet of beautifully designed flexible work space on the first and fourth floor in one of Austin's premier downtown locations, the San Jacinto Center. The first floor houses TechSpace's "Front Porch" with 8,000 square feet of co-working and event space. The fourth floor delivers 20,000 square feet of modern, collaborative private office suites – bringing Austin our supercharged, best in class private space for entrepreneurs, startups and small to mid-size businesses.