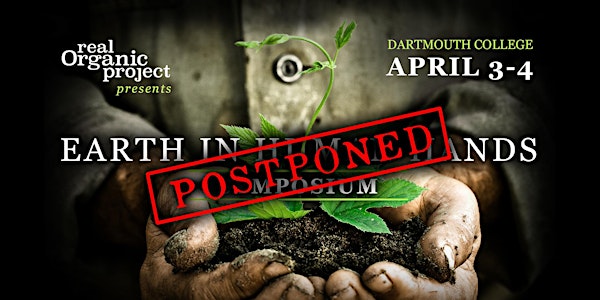 Real Organic Symposium: Earth in Human Hands
2-day Real Organic Project Symposium, Dartmouth College Speakers Paul Hawken, Eliot Coleman, JM Fortier, Chellie Pingree, and many more!
When and where
Location
Dartmouth College 6 North Main St. Hanover, NH 03755
Refund Policy
Refunds up to 7 days before event
Eventbrite's fee is nonrefundable.
About this event
03/12/20: Friends, we have officially received word from Dartmouth that our Symposium will have to be put on hold as their community takes all precautions to limit the spread of the Coronavirus. We want to thank all of you for your enthusiasm for this event - as of yesterday, all 34 speakers were still planning to come and ticket sales were strong!! It has been heartening for all of us to see how much this group wants to meet and better the world! A great way to stay tuned about our future plans for both the Symposium and our add-on label is to be sure you're signed up for our weekly newsletter. And please, stay healthy!!!!
This year's Symposium brings two full days of speakers as well as a Saturday evening keynote address with Paul Hawken. Our current schedule is listed below. Pricing is a la carte - join us for as much as you can!
$50 per day / $15 Saturday evening / Lunch tickets available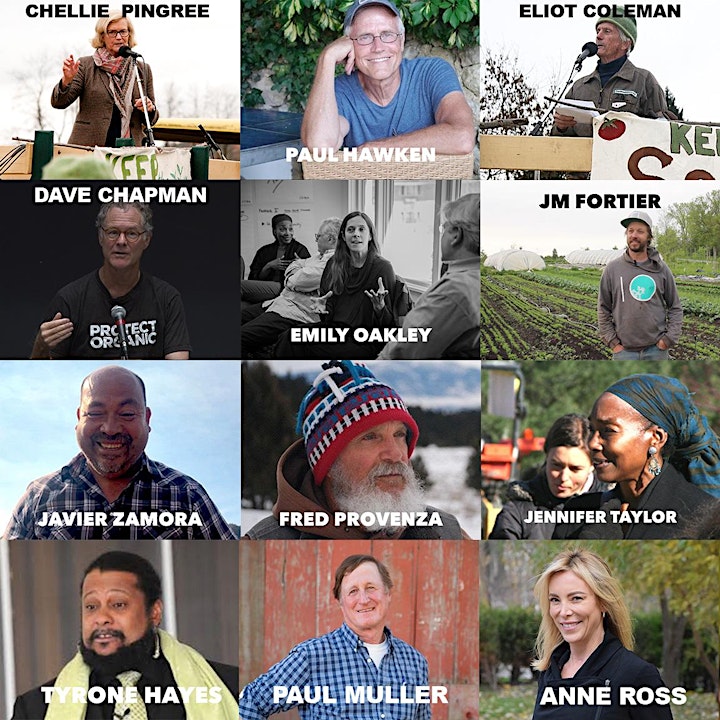 **************************************************************************
If you would like to help support this symposium, please reach out to dave@realorganicproject.org. Most of the speakers are coming without charge, but there are many expenses for such an event! We are offering scholarships to Real Organic Project certified farmers throughout the country to attend.
Speakers and Schedules:
Friday, April 3, Collis Center, Dartmouth College 9am-5pm, $50 ticket
Dr. Linley Dixon – ROP Associate Director: "Welcome"
Ben Dobson, Hannah Smith-Brubaker, Dag Falck & Will Allen: "Real Organic Farming For Climate"
Glenn Elzinga: "Organic on 70 square miles: connecting soil, human nutrition and climate"
Alan Lewis: "The Organic Supply Chain"
Keynote – David Grinspoon: "Earth In Human Hands: How Do We Act On Our Beliefs?"
Forrest Town & Ralf Carestia: "On The Road: Two Dartmouth Students Join The Real Organic Project"
Jennifer Taylor: "Lola's Organic and the Invincibility of the Organic Movement"
Steffen Reese & Nora Taleb: "Farmer led Add-on labels in the EU"
Steve Ela, Jesse Buie, Michael Sligh, Harriet Behar & Dave Mortensen: "Can We Reclaim the National Organic Program? If So, HOW? If Not, What Then?"
Emily Oakley, Eliot Coleman, JM Fortier & Paul Muller: "How Do We Keep A Strong Organic Movement with a Weakening National Organic Program?"
Saturday, April 4, Spaulding Auditorium, Dartmouth College 9am-5pm, $50 ticket
Linley Dixon: "What is the Real Organic Project?"
Fred Provenza: "Soil, Farming, and Nutrition"
Javier Zamora: "Social Justice In Agriculture: Farming as if Farmers and Farmworkers Mattered"
Anne Ross: "The Organic Grain Fraud: Pulling Organic Down"
Dr. Tyrone Hayes: "David Versus Goliath: One Scientist Versus Syngenta"
JM Fortier: "Never A Better Time to Start a Real Organic Farm"
Paul Muller: "California Rising"
VT Lieut Gov & ROP Farmer David Zuckerman: "Organic Without Soil Is Like Democracy Without People"
Peter Whoriskey: "Exposing CAFOs in Organic"
Hugh Kent:"Erosion of Organic Integrity and the Rise of Plastic Farms"
Emily Oakley: "My Experience with the USDA"
Paul Holmbeck:"Organic Movement in Denmark: Hope For Our Future"
Dave Chapman – ROP Executive Director: "Why A Real Organic Project?"
Eliot Coleman: "The Generous Earth"
Saturday Evening Keynote, Spaulding Auditorium, Dartmouth College 6:30pm, $15 ticket
Maine Congresswoman Chellie Pingree
Paul Hawken - Keynote: Regeneration- "Reversing the Climate Crisis in One Generation"
**************************************************************************
The Real Organic Project announces our second annual Dartmouth symposium, "Earth In Human Hands- A Path Forward." We will face the ways in which agriculture impacts us as a species. Most especially we will look at how real organic farming is critical to our health, and even to our survival. And how we lead the way to the changes needed.
The symposium will be held at Dartmouth College on April 3 and 4. We are supported by many departments at the college, as well as by many foundations and individuals. It is rare to see such a blending of farming, social policy, and academia!
Our April 4th evening keynote speaker will be Paul Hawken. Paul will continue the conversation that he began with Drawdown: The Most Comprehensive Plan Ever Proposed to Reverse Global Warming. It has been two years since Paul edited this international bestseller. He is now working on the sequel, which will offer a specific path to global regeneration in one lifetime. Paul will share his rich thinking with us on how to work together as a species to transform our agriculture, silvipasture, and aquaculture. Paul serves on the Advisory Board of the Real Organic Project.
Paul will be introduced by Congresswoman Chellie Pingree. Chellie has been a hero in Congress to organic farmers for years. She is still a Maine organic farmer herself. She continues to be organic's strongest voice in government, calling for a return to the integrity that the National Organic Program was originally based on. Chellie came to Thetford three years ago to speak at the first rally for organic integrity, along with Senator Pat Leahy and Congressman Peter Welch. They joined a respected group of organic farmers on a wagon in a field. We were speaking to protect the organic movement we had all worked so hard to create.
Eliot Coleman will be delivering our afternoon keynote on Saturday, April 4th. Eliot is a pioneering organic farmer, researcher, teacher, and author who has led thousands of farmers to choose an organic path. I am lucky enough to be one of his early students. His book, The New Organic Grower, has become a bible for many organic farmers. His many interviews, talks, and articles have helped hundreds of thousands of people to gain a deeper understanding of biological farming. Eliot doesn't just teach techniques. He teaches ways of thinking. He remains deeply engaged in these public conversations about what "organic" means, often fighting to defend real organic against the corporate redefinition. Eliot serves on the Advisory Board of the Real Organic Project.
We are also pleased to have Dr. David Grinspoon speak on April 3rd. David is a former NASA astrobiologist who has written the book, Earth In Human Hands: Shaping Our Planet's Future, about the existential dilemma that we all face as we unwittingly transform Mother Earth. "The Anthropocene dilemma," Grinspoon said, "is that we have global influence without global control. So far we're acting like adolescent planet vandals." The questions that he asks are the deep dilemmas that we must face as a planet altering organism.
**************************************************************************
Our other spectacular speakers include:
Emily Oakley- Organic farmer, Real Organic Project Advisory board member, National Organic Standards Board member, former board member of the National Young Farmers Coalition.
JM Fortier- Farmer, teacher, and author of The Market Gardener: A Successful Grower's Handbook for Small-Scale Organic Farming.
Dr. Tyrone Hayes- American biologist and professor of Integrative Biology at University of California, Berkeley known for his research findings concluding that the herbicide atrazine is an endocrine disruptor that demasculinizes and feminizes male frogs.
Anne Ross- Farm and food policy analyst for Cornucopia Institute best known for her extensive work with John Bobbe trying to stop import fraud in organic.
Alan Lewis- Alan navigates government affairs and food and agriculture policy for Natural Grocers by Vitamin Cottage, a health food store chain operating more than 140 stores in 19 states. Alan speaks frequently on issues of organic integrity across the country. He spoke at last year's symposium on the serious challenges in the organic supply chain. He serves on the Real Organic Project Standards Board.
Hugh Kent- Certified Real Organic Project farmer from Florida, Hugh spoke movingly last year about the plight of soil producers as they compete against hydroponic production in the wholesale market.
Javier Zamora- Javier owns JSM Organics, growing over 100 acres of organic berries, vegetables, and flowers in Watsonville CA. His diversified products help not only diversify his markets, but also employ people at higher wages year round. He inspires many in his community to connect to the good food he grows and growing more farmers too.
Peter Whoriskey- Peter is a journalist for the Washington Post covering a wide array of topics, including financial inequality, the pharmaceutical industry, hospice care, organic food fraud and the recession. As the paper's Southern bureau chief, he covered Hurricane Katrina. His series on the role of pharmaceutical companies influencing drug research, "Biased Research, Big Profits," won a George Polk Award in 2013.
Dr. Linley Dixon- Linley holds a Ph.D. in Plant Pathology that earlier led to jobs with the USDA and as chief scientist at the Cornucopia Institute. She is an organic farmer from Colorado and is also the Associate Director of the Real Organic Project. She has traveled all over America inspecting organic farms for the Real Organic Project.
Dave Chapman- Dave is a longtime organic farmer from Vermont. He has been an active leader in the movement to protect organic integrity. He has spoken many times on these issues. He has appeared in The New York Times, The Washington Post, VPR, Morning Edition, BBC World, Patagonia's The Cleanest Line, Boston Globe, as well as many newspapers, radio shows, blogs and podcasts. Dave is the Executive Director of the Real Organic Project.
**************************************************************************
If you would like to help support this symposium, please contact us. Most of the speakers are coming without charge, but there are many expenses for such an event! We are offering scholarships to organic farmers throughout the country to attend.
For updates on schedule, speakers, and travel details, visit: www.realorganicproject.org/real-organic-project-symposium