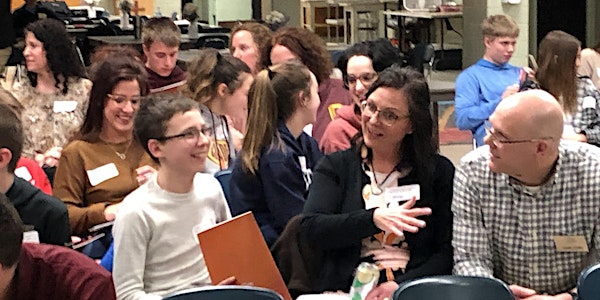 Real Love-Living the Faith - Iowa
Parents: want to help your 7th or 8th grader understand and practice purity, self-restraint, and Christ-like love? Sign up for this program!
Date and time
Saturday, September 9 · 8:30am - 4:30pm CDT
Location
St Mary's Parish 300 East 3rd Street Storm Lake, IA 50588
Refund Policy
Contact the organizer to request a refund.
Eventbrite's fee is nonrefundable.
About this event
Parents, we know that talking to your son or daughter about sex, purity, and dating can be ... intimidating. That's why Family Honor is here to help.
Family Honor is coming to Storm Lake, Iowa! If you have a 7th or 8th grade son or daughter, we encourage you to register for Family Honor's Real Love & Real Life: Living the Faith Parent-Teen Retreat Program. That's right - it's for you and your son or daughter to attend together! The program will be held at St. Mary's Catholic Church in Storm Lake on Saturday, Sep. 9, 2023. Start time is 8:30 am and the program will end at 4:30 pm. Cost is $45 per family.
Session 1 of the Family Honor program is a parent ONLY session. Our Family Honor Presenters will talk about the teen brain, how to communicate virtue with your teen, and how to be better prepared to talk about some of today's challenging topics with your teen. Plus, you'll get a chance to ask us some questions. [While you are in the Parent Only session, your teens will be attending a separate session on site with Father Travis Crotty; we know they will enjoy that session with this dynamic priest!]
For Sessions 2 and 3, your teen will join you and the rest of the families. Our experienced Family Honor Presenters will facilitate skits, videos, discussion, and questions and answers that cover many topics designed to help you and your teen make your relationship even stronger. Topics include:
> how to communicate more effectively in the family
> how to resist peer pressure
> how to form healthy friendships
> how to develop yourself as a TOTAL person
> how to understand the gift of being created male and female; the reproductive process; and appreciating our fertility (During this segment, to preserve modesty, moms and daughters in one room; dads and sons in another. PowerPoints with basic line drawings of male and female anatomy are shown.)
You'll hear about God's gift of sexuality and the virtue of purity in a way that is hopeful, meaningful, and that respects the dignity of participants.
Parents, by attending this program together with your teen, you'll be strengthening your bond with them and letting them know they can come to you to talk about ANYTHING.
Join with other parents and teens in an atmosphere that is fun, faithfully Catholic, and that offers true freedom in Christ to help your teen become the person God is calling them to be!
The $45 registration price includes ALL family members who attend. Thus, for mom, dad, and teen (or just dad and teen or just mom and teen or for parents and two teens) you simply pay for ONE registration. Lunch on site is also included in the registration price.
Questions? Call the Family Honor office at 803.929.0858 or email us at: info@familyhonor.org We hope to see you there!
Family Honor, a Catholic organization based in South Carolina, has been the trusted name in family-centered chastity education for over 30 years. When you attend one of our programs, you'll find out why so many parents tell us: "I wish you had been around when I was growing up. I would have made some different choices."
About the organizer
Family Honor, Inc., founded in 1988 and based in Columbia, SC, provides a Catholic framework on the truth and meaning of sexuality, love, and family. This is done via our parent-child programs and also our courses, conferences, and resources for parents, ministry leaders, and other interested adults. For more information, visit: https://familyhonor.org/