About this Event
Join Will County State's Attorney James Glasgow, founder and board chair of the Will County Children's Advocacy Center, for a special evening with emcee Scott Slocum, honoring those who have gone above and beyond for children who have endured physical and sexual abuse, sexual exploitation, child pornography, neglect, and exposure to violence. 5:30 PM: Cocktails (Cash Bar), 6:00 PM: Dinner & Program
STERK FAMILY LAW GROUP - Dinner Sponsor
Founder's Awards
ED CZERKIES (POSTHUMOUSLY)
CHICAGOLAND SPEEDWAY - Scott Paddock, President/CEO
JOHN BAYS, Owner & President, Bays Investment Corporation
Glen Marcum Selfless Dedication to Community Service Award
LARRY WALSH- Will County Executive
MDT Lifetime Achievement Awards
DET. SHAWN FILIPIAK - Joliet Police Department
ROSA FRIAS - Illinois Department of Children & Family Services
MARY FILLIPITCH - Will County State's Attorney's Office
Men Who Cook Heroes - Cooks, Sponsors, Planning Committee Members, & Volunteers
Heroic Volunteerism Award
ALAN & NANCY NOWACKI - Nowacki Insurance
Heroic Service Awards
PLAINFIELD JUNIOR WOMAN'S CLUB- Kristen Robertson, President
JOLIET TOWNSHIP HIGH SCHOOL - Dr. Mike Hanson, Joliet Central H.S. Key Club, and Joliet West H.S. Students of Service Club
Heroic Philanthropy Awards
CITGO LEMONT REFINERY- Dennis Willig, Vice President and General Manager
ANIMAL CARE CENTER OF SHOREWOOD - Dr. Tony Kremer & Dr. Robert Buchanan
Heroic Action Awards
MAYOR JIM HOLLAND - Village of Frankfort
LAURIE SUMMERS- Will County Board, Dist. 1
Featured speaker is Scott Cross, who broke his four-decade silence to courageously testify that former U.S. House Speaker Dennis Hastert molested him in a high school locker room when he was a teenager. He will speak about his experience as a survivor, and the importance of supporting the work of the Will County Children's Advocacy Center.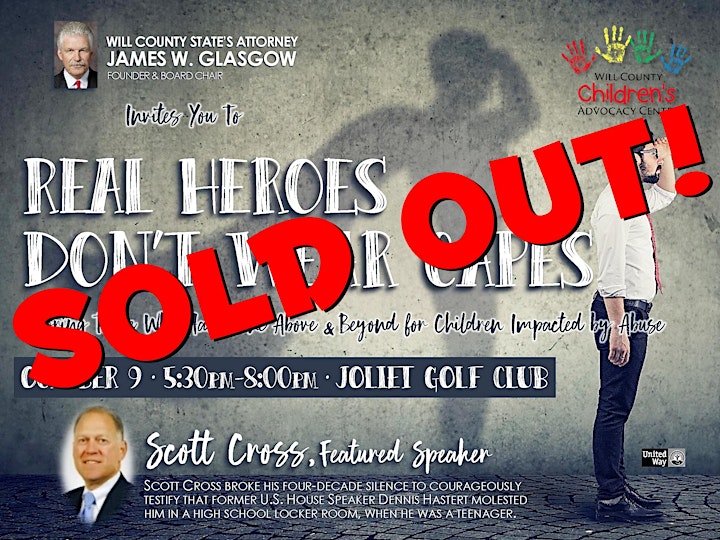 The Will County Children's Advocacy Center was established by Will County State's Attorney James W. Glasgow in 1995 as a non-profit 501(c)(3) organization so that it would not impact Will County taxpayers. As a result, the Will County CAC relies on private and public grants, donations, and fundraisers like the popular MEN WHO COOK to provide its important services.
When children make an outcry of sexual abuse, a trained and compassionate forensic interviewer obtains an accurate statement in a neutral, non-suggestive, and child-friendly environment. Forensic interviews recorded at the Will County CAC have been used in the successful prosecution of hundreds of child predators. In addition, the staff provides children and families with advocacy services and trauma-informed therapy, to enable the healing process to begin.