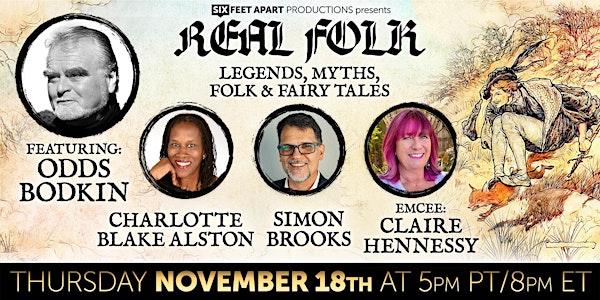 REAL FOLK - Legends, Myths, Folk & Fairy Tales
Join us for an evening of enchanting stories of legends, myths, folk and fairy tales from three outstanding storytellers.
Refund Policy
Contact the organizer to request a refund.
Eventbrite's fee is nonrefundable.
About this event
This is a virtual online show streaming on YouTube Live.
Want to be in the Zoom room with our storytellers? Be part of the live virtual audience with our Backstage Pass ticket options.
Once you register, you will receive a link to access the live event in your confirmation email.
Join us for a extraordinary evening featuring consummate storyteller Odds Bodkin, with stories from internationally acclaimed storyteller Charlotte Blake Alston and award-winning British storyteller Simon Brooks.
Emcee: Claire Hennessy
Storytellers:
Odds Bodkin
Called "a consummate storyteller" by The New York Times and "a modern-day Orpheus" by Billboard, Odds Bodkin is an author, storyteller and recording artist. He's performed twice at The White House, Off-Broadway at Lincoln Center, and as a featured teller at the National Storytelling Festival, among thousands of other venues.
With a full, symphonic-like score on 12-string guitar played live as he unfolds the tale, his telling of The Little Shepherd--an ornate Italian fairy tale with an uncanny twist at every turn—is one of his best-loved tales. With all the elements of the Hero's Journey, it speaks of naughtiness, and the life learning it takes to outgrow it. A nasty little boy breaks the eggs in an old woman's basket, and she curses him, never to grow again.
That is, until he finds Lovely Bargaglina of the Three Singing Apples. But who is she?
His quest leads him away from home where he encounters spirit helpers—tiny fairies on bridges, a strange old man who bags fog, a miller fox—all created with Odds Bodkin's voice characterizations. Each spirit helper gives him a gift. "Take this, stone. It may help you some day."
If you've never heard Odds Bodkin's work, here's a high-energy and charming place to start. A master of vocal effects, you'll hear virtuoso whistling, splattering eggs, windy fog, wild animal sounds and the creaking of a very scary witch's rocking chair. Not to mention the thundering hooves of pursuing horsemen--all chasing the little shepherd, since he's just stolen a singing apple and is running for his life.
Find out more at www.oddsbodkin.net
Charlotte Blake Alston
Charlotte Blake Alston is an internationally acclaimed storyteller, narrator and librettist who performs in venues throughout North America and abroad. Her stories are rooted in African and African American oral traditions. She has made multiple appearances at the Smithsonian Institution, the Kennedy Center for the Performing Arts, and at numerous festivals around the country including the National Storytelling Festival, the National Festival of Black Storytelling and the Timpanogos Festival.
She has performed at both Presidential and Gubernatorial Inaugural celebrations.
She was one of two storytellers selected to represent the National Association of Black Storytellers at the weekend opening of the Smithsonian Institution's National Museum of African American History and Culture. Honors include a Pew Fellowship in the Arts, the Commonwealth of PA Artist of the Year Award, the National Storytelling Network's Circle of Excellence Award, the Zora Neale Hurston Award and two Best of Philly® awards. Her latest audio installation, Voices in the Landscape: Deeply Rooted… at Longwood Gardens ran from January through March 2021.
www.charlotteblakealston.com
Simon Brooks
Award-winning British storyteller, Simon Brooks has been entrancing audiences for over 15 years. His tales, both live and his award winning recordings, combine the intensity of solo performance with the intimacy of face-to-face conversations, delighting all. He invites all to investigate & be fascinated with Story as he drops you into a tale so vividly you would think you were somewhere else. Simon has performed at hundreds of schools, colleges, libraries, and festivals including the National Storytelling Festival in Jonesborough, TN and the Timpanogos Storytelling Festival in Utah.
diamondscree.com