Description
hat is velocity banking?
A System, An Approach to Pay Off Your DEBT In 1/3 of the time & save $50,000 to 500,000+ in Interest. The SECRET THE BANKS DONT WANT YOU TO KNOW

Do you have a Mortgage, Student Loan, Car Loan or Credit Card debt? Do you want to become Debt FREE or own investment property free and clear in the future? If you said YES to any of the questions above then join us on Saturday, June 24th for this amazing day of training for only $50 live in our office or broadcast online.
Gain the knowledge for ONLY $50 with a Money Back Gaurantee***

Just some of the things you will learn...
• Get STARTED as an INVESTOR
• VELOCITY BANKING – Pay Off Debt 1/3 of Time
• IMPROVE YOUR MONTHLY CASH FLOW
• Growing Portfolio vs. Paying off Debt
• MULTIPLE PROPERTIES to Replace your income
• Get Access to 797K private lenders and 10,000+ Investors
Tony's goal is simple: to create success stories, one investor at a time with a support network! He started his real estate investing company in 2008. Tony has raised over 6 million dollars for Real Estate transactions and is investing in 5 states with 80+ cash flowing properties. He has taken Velocity Banking to the next level by combining the concept with Fix & Holds, Private Lending, Wholesales, Construction Funding and Promissory Notes. Tony is paying off a property every 6 months.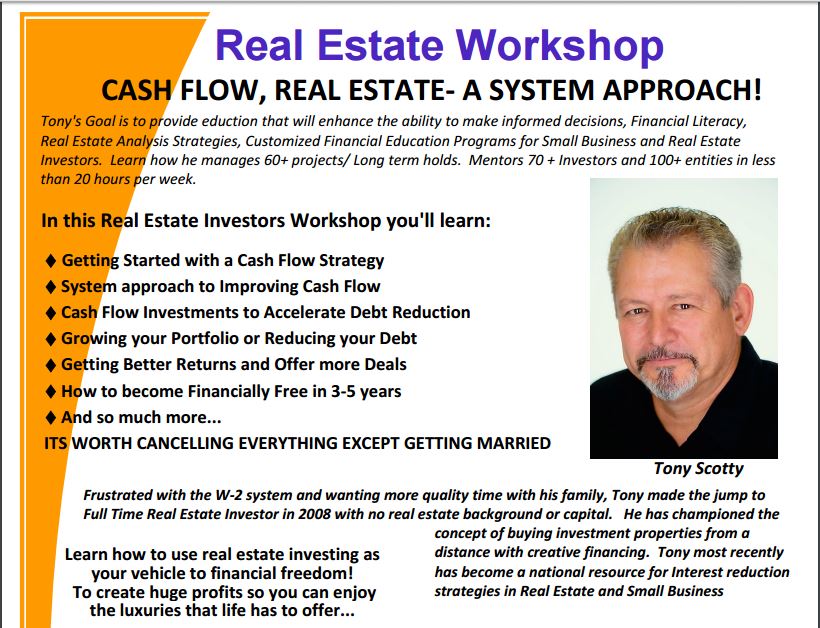 This month's Guest Speaker is Tony Scotty.
Tony Scotty: As an instructor, Tony has done well over 200 training events in the last two years. He feels blessed to be able to give back and help share our system's, network and vast resources that originally helped him navigate towards financial freedom. Tony lives in Hawaii but invest across the country. He is changing his son's life and teaching his 10 year old son how to invest and speak in public. It is truly becoming a family business.
You will not want to miss this!
*** Money Back Gaurantee: If you don't learn how to save $500 in interest over the rest of your life then we will give you your money back.***
As a BONUS, you will also get to network with our team of real estate investors and entrepreneurs.