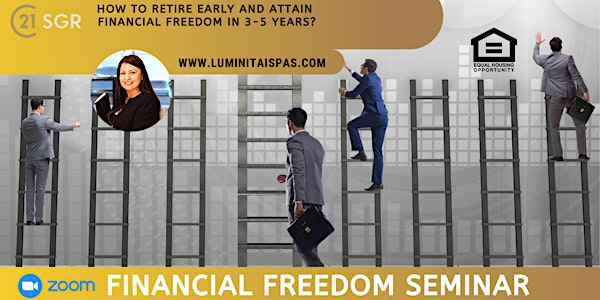 Multiple dates
Real Estate Wealth Building Online Seminar Chicago
The little known secret that only the top 1% know about Real Estate
By Luminita Ispas, top 1% broker in Chicago
Date and time
May 6, 2020 · 4:30pm - April 27, 2024 · 12:30pm PDT
About this event
Welcome to a free wealth building seminar - How to retire early and attain financial security with a few RE purchases within 3-5 years!
Here is the value you are going to receive by coming to the seminar.
- Learn how you can live for free, and never ever pay for your housing again!
- Learn the strategies you need to learn to become a millionaire
- Learn how you can retire early.
- Learn why & how Real Estate can be a safe investment when bought right
- Learn how to keep as much as $10,000/year from what you make by paying less income tax when you buy Real Estate.
- Learn to think like an entrepreneur
- Network with like-minded individuals.
Feel free to join our ZOOM event here! https://zoom.us/j/517924095
About the organizer
Lumi's dream grew over 20 years in the real estate business. Her experience and ambition helped her become one of the top Chicago agents. She is now a 16-time quality service award winner and is recognized in the top 1% of brokers in Chicago based on her number of sales. As her business expanded, she longed to make a bigger difference in her client's life and she discovered that she loves sharing her knowledge.
Because it took her over 16 years thorough good and bad markets to learn & experiment with investing, she understood from her successes and failures what it takes to make good investments. She also knew that other people are looking for the exact Formula of Success she had found, so she started teaching Real Estate Investment Seminars.
She teaches now that 80% of all the millionaires in the USA and the entire world, make or grow their fortunes through real estate and that there is more to real estate than just providing housing. Making an intelligent decision in real estate investments is a big part of it. Lumi will show her clients & all her seminar attendees how to become financially independent and build multi-million dollar portfolios.