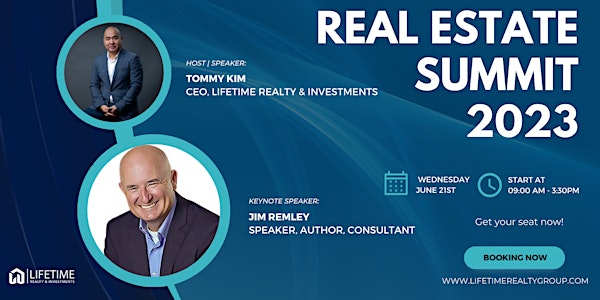 Real Estate Summit 2023
Lifetime Realty & Investments presents: Real Estate Summit 2023
By Lifetime Realty & Investments
Date and time
Wednesday, June 21 · 9am - 3pm PDT
Location
DoubleTree by Hilton Hotel Anaheim - Orange County 100 The City Drive North Orange, CA 92868
About this event
Join us for the Real Estate Summit 2023, hosted by Lifetime Realty & Investments and featuring keynote speaker, Jim Remley.
Jim is a renowned expert in the real estate industry, and his insights and experience will provide valuable guidance for attendees. This premier event will bring together industry leaders, real estate professionals, and aspiring agents for a day of education, networking, and growth.
Our speakers will share their expertise on the latest trends and techniques in real estate, giving you the tools to succeed in today's dynamic market.
Don't miss this opportunity to hear from Jim Remley, connect with like-minded individuals, and expand your knowledge.
Register now for the Real Estate Summit 2023, and let's shape the future of the industry together.
JOIN US as we discuss the following:
One of the best ways to become an active investor is to create an income stream that can support buying and investing in real estate. In my opinion the best way to do this is by focusing your energy and time on becoming a productive real estate professional. In mind this is someone who invests their time wisely, focuses on true priorities, and learns from the best what strategies produces the best results.
7 Strategies to Fill Your Listing Pipeline
Did you know that 82% of sellers only interview one agent before listing their home? How can you be that agent? Join this exciting session as Jim dives into the specific strategies top producers are using to create more conversations with potential sellers in 2023.
Topics that will be covered during the presentation:
Using the Power of Curiosity
Scripts, Emails, and Texts to Unlock Opportunities
Tapping Untapped Pools of Potential Clients
Predictive Technology – Improving Your ROI
The Ultimate Lure to Attract Sellers
Positioning Yourself as an Expert
Attracting Clients instead of Chasing Them
How to Use Social-Media to Attract Clients
How to Fix Client to REALTOR Disconnect
Your Power Base Number and Why it Matters
The Engine Under the Hood of Your Business
The Hospitality Mind Set
The Aspirational Goals Strategy
20 Messages a Day Strategy
CMA a Day Strategy
Golden Circle Strategy: 4x More Likely to Receive Referrals
The One a Day Strategy
7 Questions to Level Up Your Business
Micro Focus w Predictive Tech
Macro Focus with EDDM
Listing Marketing Sequence
Would you Be Curious?
The Power of Serial Clients
Video Strategies: The 94% Rule
Absentee Owner Strategy
For Sale by Owner Cold Texting
The McDonalds Strategy
Marketing Your Marketing
Merchandizing Listings – How to Price, Package, and Position Listings to Sell Quickly
The market has changed. The competition for buyers has become much more intense. So how do you ensure that your listing attracts showings and offers? Join this fast-paced session as Jim provides an in-depth overview of how to help your clients achieve their real estate goals.
Topics that will be covered during this presentation:
Inventory Levels Are Rising…why?
First Step for Buyers is…
Price Points – Search Patterns
Search Engine Pricing
Anchor Point Pricing
Tell and Show:
Backlog of Buyers One Chance
The Power of Price Bands
The Feeding Frenzy Script
According to Home Buyers Staging is most likely to:
The Smelly House
Clean up the Home Script
The Way Buyers Buy
Fishing For Buyers
Feedback Loops
Gift Bag the Reduction
Refresh and Repackage
If you haven't already, be sure to check out the highlight video from our last Real Estate Summit event in 2021. It was a huge success, and we couldn't have done it without all of you.
We're already hard at work planning our next event, and we anticipate it to be even bigger and better than before. So mark your calendars and stay tuned for more updates. We can't wait to see you there!
Agenda
9:00 AM - 9:30 AM
Arrival + Check-in + Continental Breakfast
---
Arrival + Check in will start at 9:00AM - Be sure to get there early! Continental Breakfast will be served beginning of the event - Get Energized!
9:45 AM - 10:45 AM
First Speaker: Tommy Kim
---
It is my pleasure to introduce our first speaker for the Real Estate Summit 2023 - Tommy Kim, CEO of Lifetime Realty & Investments. Tommy is a seasoned real estate professional with over years of exp...

10:45 AM - 11:00 AM
Morning Break
11:00 AM - 12:00 PM
Key Note Speaker: Jim Remley
1:00 PM - 3:00 PM
Key Note Speaker: Jim Remley
3:00 PM - 3:30 PM
Event Concludes: Questions, Comments, AHA's, Network.