Description
REAL ESTATE GROWTH ROUND TABLES
BROUGHT TO YOU BY THE SIX FIGURE COACH MAGAZINE
You are invited to join this invite-only round table to gain the edge over your competitors when you learn:
How To Stand Out in the Market and Attract Ideal Clients
Everything You Need To Know About Generating More Leads
The Key Actions You Can Take Immediately to Close More Sales
If you are looking for new ideas to grow your business and generate more sales, then join us for an exclusive, invitation only event for Daytona Beach, Florida Realtors.
WHAT IS THIS REAL ESTATE ROUND TABLE?
Imagine spending a little time one morning with a select group of successful local Daytona Beach realtors and discovering new ways to increase the current number of new leads EVERY month, grow your sales volume and save valuable time.
AGENDA
During this eye-opening meeting, we're going to discuss everything successful realtors are doing to accomplish the following:
Increase Lead Flow
Generate more Sales Volume
Effectively Market Online in North Florida
How realtors Maximize Repeat Business
How realtors set up Joint Venture Partners that promote their business for them!
Not only will we share our years of experience helping realtors to build multimillion dollar real estate businesses, we will also discuss what is working and what is not working locally.
Be sure not miss this exclusive event for select realtors and gain the tools and knowledge you can use to amplify your business in 2019.
Training resources and materials will be supplied.
NOTE: To apply to attend this exclusive event, register on Eventbrite.
Seating is limited so register early.
And leave your wallet at home because there will be no sales at this event.
NOTE: To apply to attend this exclusive event, register on Eventbrite.
Seating is limited so register early.
BONUS GIFT FOR ATTENDEES:
Attendees will recieve a free copy of What Every Realtor Needs to Know to Successfully Market Your Business and Make a Ton of Money Doing It.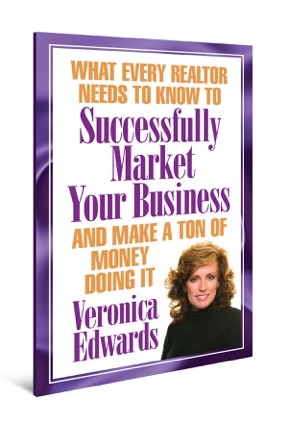 EVENTS HOSTS:
Veronica Edwards: Real Estate Coaching & Consulting has more than 20 years of comprehensive sales experience which stems from a range of owning her own business to corporate sales. With that experience, she developed a client-centered philosophy and attention to detail for enhancing every transaction. She works with real estate professionals to grow their business by attracting their ideal customers and closing more sales.
Kenny Harper of Rock My Image is a Business Growth Consultant, Marketing Advisor and International Spearker who shares strategies of how professionals can attract their ideal customers without spending money on advertising. He is the author of Amplify Your Business and Amplified Business Breakthroughs.