Description
**** IMPORTANT *** MUST USE GOTOWEBINAR LINKS BELOW TO REGISTER***
The Multifamily Fundamentals webinar is, unquestionably, the best place to start their apartment investing journey. This is NOT your average boring sales pitchy webinar. This POWERHOUSE training is all content, no fluff. Expect to be entertained and educated. Expect many 'wow' moments. Expect to say "this is how all webinars should be". Taught online every month on the first Tuesday of the month at 6 PM, the Multifamily Fundamentals webinar will give you the foundation you need to develop your multifamily skills. Scroll to the bottom of this listing for the event description.
Interested? Click the here to register. Gotowebinar will remind you before the event.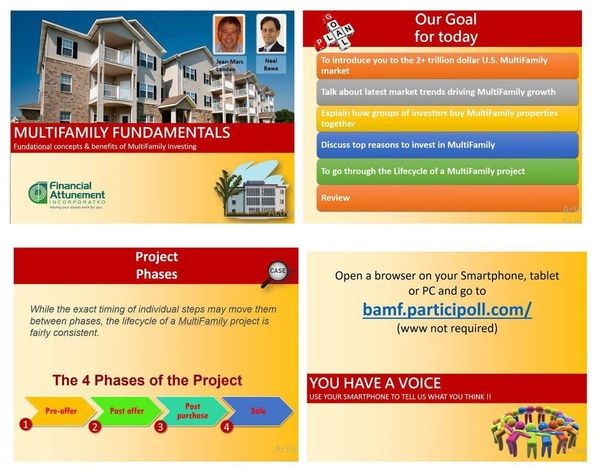 What you will learn:
basics of why multi family is such a powerful investing tool
Why a $25 rent increase in a 200 unit apartment complex increases your net worth by $750,000
Single family vs multifamily – Pros and cons
Lessons and strategies from past experience
How to identify emerging metros and find quality apartment complexes
How to purchase these buildings in a group, without having to put in millions of dollars
Why single family is a job and multifamily is an investment
California vs other states: which is better?
What kind of returns can you expect, and the timeframe?
Macro market trends supporting Multifamily investing
Why Multifamily prices tend to be less volatile than single family prices
If you are interested to join our group, click this link to sign up.
See you online !!!