Description
Join us for a day full of learning, growth and insights from some of the top real estate agents in the industry and special guest speaker Tony Giordano!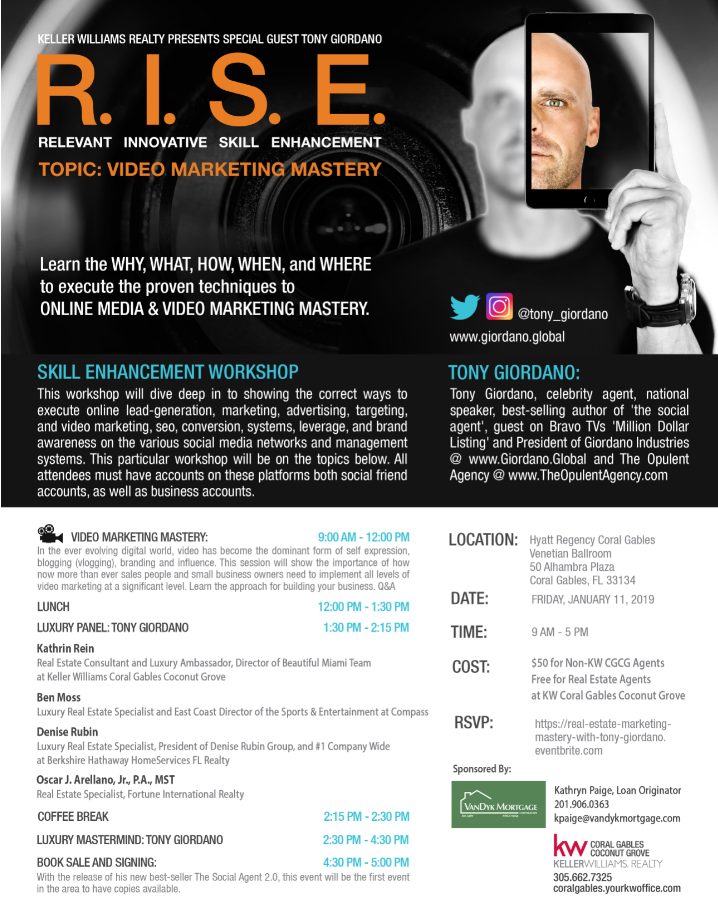 -------------------
About Tony Giordano
President / Chief Executive Officer
Giordano Industries
Founder and President Tony Giordano began his career in the real estate industry, first in 1998, developing a vast knowledge in all aspects of the industry, from being a top mortgage broker and executive in real estate finance, to the sales side of the business as a top real estate agent in residential, commercial, investments, and development. Since 2010 he has helped agents and partner associates sell over 1.3 billion in sales volume leading him to become a coach / consultant, and speaking across the nation on the topics of marketing, online media, social media, real estate, development, investments, business building, lead-generation, recruiting, lead conversion and systems implementation which has led him to being a highly recognized consultant and speaker on these topics. His consulting and speaking clients include some of the largest organizations in the world including INMAN News, N.A.R., Allstate Insurance, Farmers Insurance, Aflac, Coldwell Banker, Keller Williams Realty, Sotheby's, RE/MAX, Century 21, ERA, Douglas Elliman, Compass, Wells Fargo, Prospect Mortgage, CITI, along with universities such as Pepperdine, USC, and UCLA to name a few.
In 2012 he became a national best-selling author with his first book titled, The Social Agent, 'the new era of social networking' which teaches clients, and sales professionals the correct ways to integrate online presence and grow their business while revealing the secrets and dispelling the myths of social networking, SEO, and online marketing on various platforms such as Facebook, Instagram, Twitter, Google, YouTube, LinkedIn, SnapChat, Pinterest, etc...
In 2017 his first book became an international best-seller with his second and third books releasing January 2018. His key goal is not just helping his clients learn modern day techniques, but also to grow their businesses by integrating and executing the proven strategies he has developed as a business professional within the new world of social and online media. This proven success allows him to coach professionals through exactly what their small business's need to do in order to build their brands and productivity. With this unique background , he has a passion to lead thousands to greater success and change lives for the better in both his audiences and clients.
With a seasoned background as a top mortgage broker, celebrity real estate agent and guest on multiple seasons of Bravo TV's 'Million Dollar Listing', Tony is also Founder / President of The Opulent Agency, which is a luxury real estate marketing & advertising agency with the honor of marketing some of the most opulent properties for sale in the world. A firm for agents and brands to use, The Opulent Agency has built a network of listings and buyers that span the globe due to a very unique and innovative technique in marketing sellers properties and targeting buyers globally. In recent years fueled primarily by online presence, he has built an international re-location and referral network for real estate professionals and has risen as one of the top luxury real estate online advertising and social media marketing agencies in the industry. With this unique background , he has a passion to lead thousands to greater success and change lives for the better in both his audiences and clients.
About the Panelists
Kathrin Rein
Since joining the real estate industry seven years ago, Kathrin Rein has become one of the top agents in Miami. As a real estate consultant and luxury ambassador at the Keller Williams Coral Gables/Coconut Grove office, Rein assists VIP clients, investors and clients relocating to the greater Miami area for work or purchasing a vacation home.
Coming from the German entertainment industry, where she was a successful actress and comedian, Rein is the perfect agent for helping celebrities and other public figures find the right home. "They trust that I am discreet and would never disclose their names," she says, adding that some of her investment buyers give her a blank signed contract with the assumption that she will purchase the property that makes the most financial sense for them. "I'm like their stock broker for real estate," she says. "My clients all know I care deeply about them. Not just about their homes but also about their families and their lives."
Known for her extensive marketing efforts, Rein places her listings on more than 200 websites, including ones popular in Asia and Europe, and hosts lavish events to draw potential buyers to luxury properties. "Anyone can be a normal Realtor," she says. "We work a bit outside the box."
In 2017, her unique approach and recent onboarding of an office manager resulted in several multimillion-dollar sales, as well as several properties that went for full or above asking price. Thanks to having additional help, she's closed nearly $13 million within the first two months of 2018 alone — including a condo at Yacht Harbor in Coconut Grove, which marked the biggest sale ever in the history of the building.
Rein is the recipient of the 2016 and 2017 Mega Agent Award from Keller Williams and achieved the Highest Closed Volume award from 2015 to 2017, making her the No. 1 residential agent in her office for three consecutive years. She also received awards for Highest Listed Volume in 2017, the Highest Closed Units in 2016 and the Triple Gold Award of Keller Williams this year for her impressive sales progress.
A luxury agent, power negotiator, marketing expert and global property specialist, Rein remains active in the real estate community as a member of the Keller Williams Young Professional Network, the Women's Council of Miami and the Miami Association of Realtors. She also sits on the Leadership Council of her office and teaches and mentors other agents on their way to success.
In her free time, Rein loves to play tennis, go paddleboarding and spend time with her husband and two children, a 9-year-old son and a 3-year-old daughter. "They inspire me to be the best I can be every single day," she says.
Ben Moss
Ben Moss represents buyers and sellers of real estate in South Florida and has assisted hundreds of celebrities around the country with their real estate needs. Ben's high sales production ranks him nationally among the top 1/4 of 1% of Realtors according to The Wall Street Journal, Real Trends report.
Ben has built his business by forming long-lasting relationships with his clients through providing diligent and analytical service, impeccable market knowledge, attention to detail and uncompromising ethical standards. Ben frequently presents on real estate market topics to entities such as Who's Who in Luxury Real Estate, several NFL teams, the University of Miami's Executive MBA for Artists & Athletes and other organizations. Prior to entering residential brokerage in 2005, Ben was a Director at Taylor & Mathis, where he leased a portfolio of institutional-quality office buildings totaling 2.5 M square feet in South Florida for five years. Ben graduated Magna Cum Laude with a BA from the University of Miami and is a member of the university's Citizen's Board. He is fluent in English and Spanish.
Oscar J. Arellano, Jr., P.A., MST
As a #1 top producer for Fortune International Realty and ranking among the best of the best in South Florida, Oscar Arellano has made a name for himself as a Miami Realtor with a swift rise to the top in one of the country's most unpredictable and competitive markets. And with many articles and rave reviews written and awards bestowed upon him, Arellano has maintained a constant average inventory of 15 – 20 listings at any given time. Arellano's business acumen and dedication to his clients and potential clients puts him in a place where few Miami real estate professional ever aspire.
As a distinguished graduate of Florida International University, Arellano holds a Bachelor's Degree in Accounting and a Master of Science (M.S.) in Taxation. After a successful stint in a prestigious local Miami CPA firm, Arellano decided to apply his bevy of financial, marketing, sales, education and experience to his new passions – Miami real estate business. Arellano currently also holds memberships to several local charities and civic organizations. He is an active member of the President's Cabinet at Miami Children's Health Foundation.
As a top producing Miami Realtor, Arellano has assembled and managed a team of real estate professionals to provide personalized and professional services to his clients which result in repeat client business and referrals. Arellano's devotion to innovative real estate marketing techniques, his persistent determination, and his broad circle of contacts have helped him sell "just listed" properties in as little as a day. It is not unusual for Arellano to sell a property within days, even in fluctuating and unpredictable market conditions. Arellano also maintains effective communication and networks with business associates and friends throughout Coral Gables, Miami, Coconut Grove and South Miami allowing him access to many diverse and possible "sellers" and "buyers."
Arellano summarizes his personal and professional passion for real estate with a simple yet revealing slogan "I move fast, so you can too!" When you have Arellano working for you in any Miami real estate capacity, you can expect the highest level of service, the best possible marketing strategy for your property and the best administrative support to your transaction. When you need the services of a Realtor, why not seek the services of someone like Oscar Arellano? He diligently explores the challenges in a constantly changing market and emerging trends, anticipates those changes, utilizes the most effective marketing techniques, personifies expertise, experience, excellence and delivers knowledge, commitment and success with the utmost integrity. His long list of sales and repeat and happy clients are your guarantee of success in buying or selling Miami real estate.
Denise Rubin
In a notoriously crowded and competitive South Florida real estate market, Denise Rubin stands out as one of the top producers in history and has amassed a room full of awards including 32 "BEST" awards from the Builders Association of South Florida and seven-time Best Real Estate Professional of the Year.
Being number one is all Denise has ever known; she has been the #1 Realtor for every company she has been a part of. Denise is #1 Company Wide at Berkshire Hathaway Home Services Florida Realty for the 8th year in a row as well as in the top ½ of 1% nationwide and honored in the Berkshire Hathaway Home Services Chairman's Diamond Circle.
Denise is backed by a multilingual team, the Denise Rubin Group, with top agents that speak Russian, Portuguese, French, Hebrew, and Spanish.
In addition to representing the cream of the crop local properties, Denise's unique marketing strategies and her proven success have helped her to acquire a veritable "Who's Who" list of clients including CEO's, musicians, TV & entertainment celebrities, and sports stars such as Tony Robbins, Donald Sutherland, Deion Sanders, Rony Seikaly. and Miguel Cabrera. Denise is also now a cast member on The American Dream TV Show airing on CBS.
Denise has also achieved a pinnacle in her career reaching over 2 Billion Dollars in personal sales and is ready for so much more!
Thank you to our Sponsor!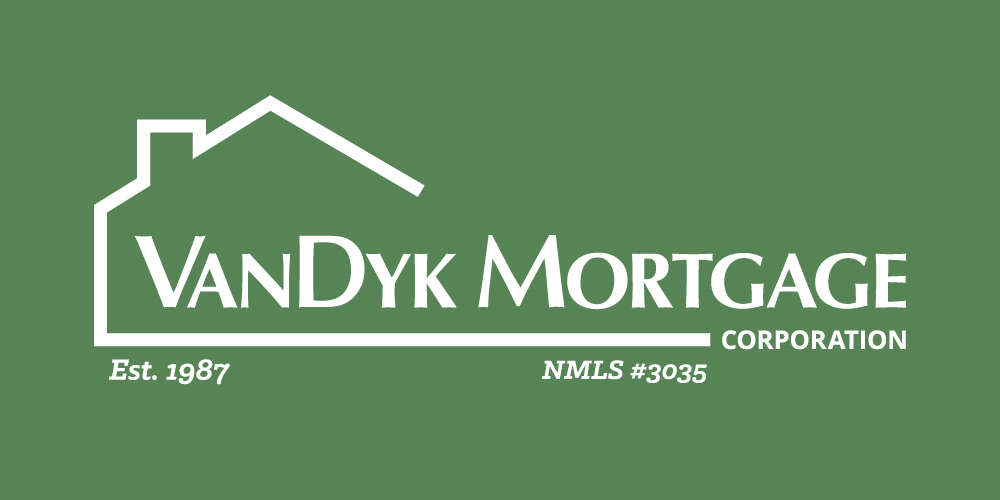 Kathryn Paige




Loan Originator
C: 201.906.0363 | F: 305.239.8925