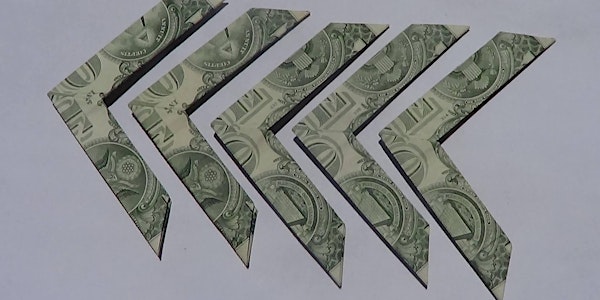 Real Estate Lender/Borrower Speed Networking
Connect with real estate lenders and borrowers
When and where
Location
Freight 38 838 s 1st st Milwaukee, WI 53204
Refund Policy
Contact the organizer to request a refund.
Eventbrite's fee is nonrefundable.
About this event
CAPTAIN SAVE A HOME LLC, Wisconsin's premier Real Estate Solutions Company (We buy houses AS IS) and Brew City REI Training Cafe, will be hosting a Lender/Borrower speed networking event at Freight 38, 838 S 1st St on Thursday, September 16th, 2021, 6pm-9pm.
Are you looking to close more deals but need the cash to do it?
Trying to figure out how to raise more down payment money?
Are you or do you want to self-direct an IRA?
Interested in acquiring more rentals and finding cash boomerang partners?
This is the event to come to!!!
ADMISSION $15
Brew City REI thanks its sponsors and outstanding real estate vendors:
• Captain Save A Home LLC, 414-699-5888, Rebecca Knox www.captainsave-a-home.com
• Dave Graf, GSI Foundations, Basement/foundation repair, 920-203-6087, https://www.gsifoundations.com/
• Bud Radtke, Radtke Contractors LLC, Basement/foundation repair,
• (414) 507-2235
• West Smith Builders, (414) 759-4743, Kitchen and Bathroom remodeling, design consultation, support header installation, Floor jack installation. General contracting
• Matt Pulda, Mainstream Insurance, 262-226-4404, https://www.wimainstream.com/
• Bob Dummer, P & C Insurance, 262-784-0990 x240
• Tammy Kloehn, Stewart Title, 262-207-1771, https://www.stewart.com/en.html
• Jackie Brown, Land Title Services, 414-755-1012, http://www.landtitleservices.net/
• Nick Knox III, Premier Point Realty, 414-378-1722, Residential real estate, flat rate listings
• Jodi Graf, Premier Point Realty, Get your license at a discount, 414-395-5478, www.premierpointrealty.com
• Michael & Nicole Borowski, Homestead Realty, Get your license at a discount, https://www.homesteadrealtyinc.com/ , 414-514-4699
• Daniel Balderas, Modern MilwauKey Real Estate, Realtor/Broker, 414-KEY-0000, www.modernmilwaukeyrealestate.com
• Sahara Ali, Sahara Sells, Realtor/Residential-Commercial, 414-736-4421,
• Welcome Home Milwaukee, (414) 755-2534, https://whmilwaukee.com/, Property Management
• Michael Baron, PMI of Greater Milwaukee, Property Management, 414-433-9107 www.pmimilwaukee.com
• Alex Kaster/Bryan Lam, Citywide Rentals & Property Management LLC, Property Management, (414) 688-7678, https://citywiderentalsmke.com/
• Corina Eufinger, Brio Properties/CRC Investments, 262-448-1659, www.brioproperties.com, Racine/Kenosha Property Management
• Mach1 Capital, 262-264-8606 Investment manager focusing on commercial loans and real estate generating risk adjusted returns for our accredited investors.
• Deb Tuttle, MGM Capital Group LLC, mgmcapitalgroup@gmail.com d) 262-613-1627, o) 262-695-2000, Hard/Private Money lending
• Jason Katz, Tier 1 Home Inspections , Home Inspections, 414-540-8750, https://tier1homeinspections.com/
• Deb Kay, Pink Ribbon Productions, https://pinkribbonpro.com/ , Real Estate Photography, 262-424-0162
• Lauren Speidel, Exeter 1031 Exchange Services, http://www.exeterco.com/ , (630) 828-5200/619-822-1571
• Taylor Rens, Rens Law, trens@krlawwi.com, 414-810-2678
• Michael Fishman, Guthman Tax Services Inc, 414-453-0627/414-453-0628, Real Estate Accountant
• Ana Karina Klein, AKK Tax & Accounting LLC, 414-420-1174, Real Estate Accountant, https://www.akk-tax.com/
• Adam Lee Smith, Freight 38, **Event space****https://www.freight38.space/
• MKE Co-Work, 414-301-1183, Office sharing space
**People BANNED from any Brew City REI or its affiliate Groups are not allowed at meetups.
#CaptainSaveAHome #BrewCityREIClub #WhereDealsComeTrue #PeopleHelpingPeople #UnifyInspireEducate #MilwaukeeRealEstate #RealEstateInvesting #RealEstateEducation #RichDadPoorDad #HGTV #Apartment #BRRRR #BRRR #ApartmentInvestor #Wisconsin #Milwaukee #Ozaukee #Waukesha #Racine #Kenosha #BiggerPockets #Wealth #FinancialFreedom #RealEstateInvestor #Invest #Landlord #Rental #PassiveIncome #CashHomeBuyers #REI #WeBuyHomes #WeBuyHouses #IBuyHouses #Wholesale #Wholesaler #REIEducation #ThinkRich #Money #CityOfMilwaukee #Rehab #Flip #FlipOrFlop #PrivateMoney #Wisconsin #WI #Flipper #HouseFlipper #Realtor #RealEstate #Realtor #JustListed #Broker #Milwaukee #Racine #Kenosha #Ozaukee #Waukesha #forsale #homesale #househunting #properties #home #homesforsale #property #investmentmilwaukee #housing #mortgage #homesforsale #openhouse #homeinspection #creditreport #creditscore #cashcow #foreclosure #shortsale #distressedproperty #emptynest #renovated #justlisted #reo #countrylife #fixandflip #wanttomove #ibuyhouses #freecma #accuratehomeevaluation