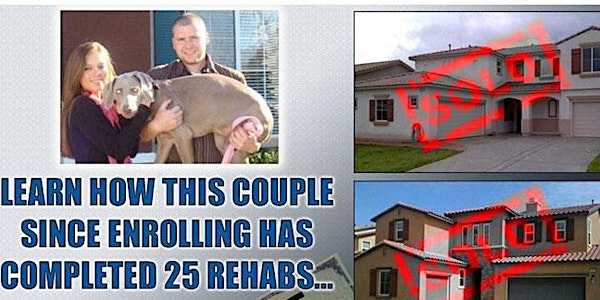 Real Estate investors Looking for a trainee
We are a team of real estate investors growing and expanding our investor group .
About this event
We are a team of real estate investors growing and expanding our investor group . We are looking for serious, hardworking people who can help us find, manage and fix properties. There are many bank owned properties in this area and we are looking for people who would like to learn this business as well as learn how to earn money in real estate investing.
Specifically, we are looking for sales and marketing professionals and or people with a passion for real estate, who are willing to put in the necessary work to succeed. This is a unique opportunity to work part time or full time from home while you learn this business.
We are only seeking capable and teachable people interested in earning a six figure income who have a proven record for BEING A TOP PERFORMER in your field. If you are currently employed as I still am, you do not have to quit your existing job YET! Like me, you can treat this as an opportunity to begin your second career and continue working until you feel you are ready to work this business full time. We will personally work with you to learn this process if you qualify.
Qualifications:
1. You have to be a TOP PERFORMER with a proven TRACK RECORD in whatever you do.
2.You must have an entrepreneurial spirit, and be teachable/coachable.
3. Excellent oral, written, and communication skills.
4. Focused, driven and motivated to succeed.
5. Team player attitude and be willing to help and work with others
6. Most of all must be positive and outgoing to be a fit for our team.
7. Like most careers in real estate, this is a commission based 1099, and NOT a W2 position.
• This is an opportunity to EARN while you LEARN!
• You DO NOT NEED a real estate license
• Your credit score does not matter
• We teach you how to acquire homes with NO MONEY DOWN and NO CREDIT!
• Learn how to buy homes at DEEP DISCOUNTS with INSTANT EQUITY!
• Learn how to find homes for every type of real estate transaction including: Fix and Flips |Short
Sales | Commercial |Multi- Family | Lease Options |Notes, Tax Liens, & Deeds.
Ideal candidates are successful individuals who want to learn Real Estate Investing. You have the mind set to earn six figures or can demonstrate a similar level of success with a desire to start building your own business! If you have a successful background in real estate, corporate sales, marketing, or a business background, this is a great opportunity to begin a new career. If you are already involved in Real Estate investing, this is a perfect opportunity for you to expand your existing knowledge and would like to network with other investors.
Our network of business owners and investors will invest their time and work with you as your training progresses. You will learn the latest techniques for raising capital, creative acquisition strategies for properties, and minimizing tax and legal consequences on your deals, all from world-class investors.
This is a career (a lifestyle) in Real Estate Investing -- so of course you will need a passion to learn the business (the right way!) and the desire to actually INVEST in property of your own.
The right candidates will be guided through the process of building a Serious Real Estate Portfolio for themselves once they learn the business. If you are not SERIOUS about real Estate this isn't the right opportunity for you!!!
Apply NOW to see if you qualify and to schedule a consultation;
https://www.korestone.co/join-us