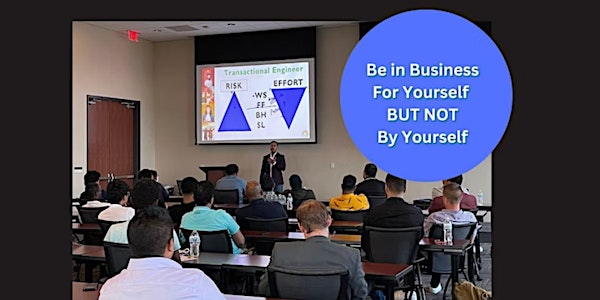 Multiple dates
Real Estate Investing w/ 0 money down - Raleigh, NC
Invest In Real Estate! Learn how with no money or credit!
By Royal Solution Seekers (RSS)
Date and time
January 12 · 7pm - December 30 · 1:30pm EST
Location
ONLINE Zoom You will get a text with the Zoom Info Raleigh, NC 27601
About this event
Please note that you must provide a cell phone number in order to receive the Zoom ID for this meeting. Without it, you will not be able to participate.
We are a community of real estate investors looking for like-minded entrepreneurs to join us. If you are interested in gaining the knowledge and skills to succeed as a real estate investor, and receiving step by step instructions on building your business, this meeting may be worth your time.
Whether you have no experience, some experience, or are a seasoned investor, we welcome you to come and learn more about who we are, what we do, and how you may fit in with us. The real estate investing opportunity we will share has the potential to change lives.
What we offer is E.P.I.C.!
EDUCATION* Whether you're a new investor or you have years of experience under your belt, there is always something new to learn in real estate – but it can be challenging to navigate the multilayered market. Investors should be up to date with their industry knowledge and know the unique risks to help develop their strategy and make sound investment decisions. Education is required for you to grow and refresh your knowledge, build new skills and possibly collaborate with experts in different real estate investing styles.
PROPERTIES* Community benefits include a lead pipes feature to gain access to the names, addresses, and contact information for motivated sellers, buyers, and private lenders in your area.
INCOME* Multiple streams of income is no longer a luxury, it's a necessity. Diversifying your investments is widely recognized as a method of building wealth, but diversifying your income streams is just as important. See how you can learn AND earn.
COMMUNITY* Our communities can be found nationwide from Alaska to Hawaii. We are like-minded individuals, who are working toward bettering financial futures through real estate investing and business ownership. While we all come from different backgrounds, we share a common goal. Learning to invest in real estate and run a business can be challenging, so having an investors network group on the same journey is invaluable.
Not only will you meet local real estate investors that are actively doing deals but learn...
* The 4 levels of real estate investing* Why and how anyone can pay less in taxes* How to use social media to improve profits* Strategies to pay off your mortgage in 1/3 of the time* How to start earning right away
Additional info on:
* Wealth Building and Management Strategies* Business and Personal Development* Study Groups* Property Tours* Local & Nationwide Community
We're sharing knowledge & Providing support to help others grow and succeed. THIS IS WHY WE ARE DIFFERENT!! Your Success is Our Success!
Please make sure to provide a cell phone number. Without that, we will not be able to text you the Zoom ID, and you will miss the meeting. Thank you! If you don't receive our text, Please text us at 321-312-0072!
Looking forward to meeting you online,
Jessica Stanford
321-312-0072