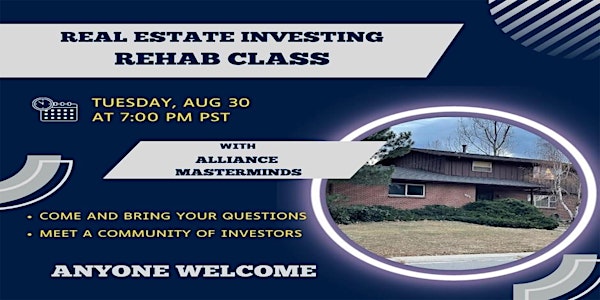 Real Estate Investing Property Tour ( Tustin )
We have a property tour almost every Tuesday where we go over deals. We talk about how we found it, funded it, and the exit strategy.
When and where
Location
Santa Ana 1740 E. Garry Ave. Suite 221 (second floor) Santa Ana, CA 92705
About this event
Travel with us on this virtual Property and learn how to become the bank and own properties without ever having to set foot in another state or worry about tenants. This and so much is what will be covered and also some various exit strategies to create the most profit potential. This is not like the TV shows, flip this or flip that, this is a behind the scene look at an actual property.
Bring an open mind, pen, paper, questions, and be ready to view the property through an investor's eye. The condition and status of the property will vary.
If you are interested in attending text the words "Prop Tour" to 657-204-6503 and include your name and email. A Team member will be in touch with you and provide a link to gain access to the Zoom meeting.Your contact person will be Teresa M., she will be expecting you.
If for some reason you are not able to make it to the event, please let us know by sending a text to 657-204-6503.
See you soon!