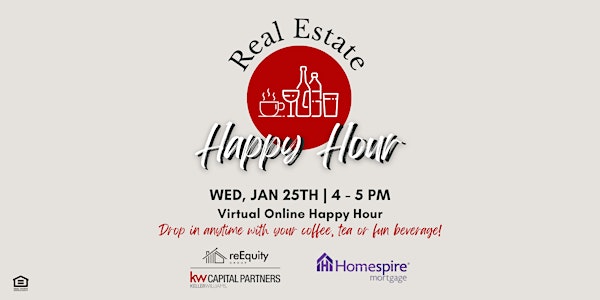 Real Estate Happy Hour (Virtual)
BYOB and ask a Real Estate Agent and Lender all about Home Buying in Columbus
About this event
Wish you could ask questions about home buying without committing to a meeting or completing an online form? Drop in during our Virtual Real Estate Happy Hour on Wed, 1/25, 4:00-5:00 pm EST.
Ask licensed realtor Melanie Mantel of reEquity Group - Keller Williams Capital Partners and lender Kyle LeDuc of Homespire Mortgage ALL of your home buying questions!
☕️ 🍷 🍺 You don't need to stay the whole time, just drop in! And since it's a Happy Hour feel free to come with your coffee, tea, beer, wine, cocktail...whatever you like.
This event is an open forum allowing for Q&A and conversation about today's market in Central Ohio.
Homespire Mortgage - NMLS#: 960494 is an Equal Housing Lender. For educational purposes only. Homespire Mortgage is not affiliated with Keller Williams Capital Partners.