Real Escape Game Meet-up + MC AUDITION SHOWDOWN!

Monday, September 22, 2014 from 7:00 PM to 10:30 PM (PDT)
Event Details
Will you be able to solve the mystery of the possessed applicant?

Come meet the current (and future!) staff of the Real Escape Game and cheer on your favorite MC, while enjoying some light puzzle action! 
Real Escape Game (REG) is casting another MC to be a part of our future games! We are very excited to announce this opportunity. This will be a very special night for us, but strange things have been happening as we have been preparing for this event. After some intense investigations by our elite puzzle solving team, we have determined that one of the applicants...was possessed by a ghost! On 9/22, while you are enjoying MC audition, watch for signs of supernatural activity to help us identify the possessed applicant, figure out the ghost's motive for interfering with the event, and free the applicant from the ghost!
---
Date : Monday, September 22nd, 2014  
Time : 7:00pm Door open / 7:30pm-Audition start! 
Ticket :  $9- (including 2 drinks and Pizzas)
Venue : FIREHOUSE 8  - 1648 Pacific Ave (between Polk st and Van Ness st.) San Francisco
---
Join the meet-up and judge our MC candidates!
Please purchase a ticket now! The ticket includes two drinks & pizza! Make sure you bring your ID to the event, since this is a 21+ age event. During the event, you'll get to enjoy talking to other fans and to our crew, and join in the voting for the MC audition! We will announce how the voting process works before the event. Stay tuned!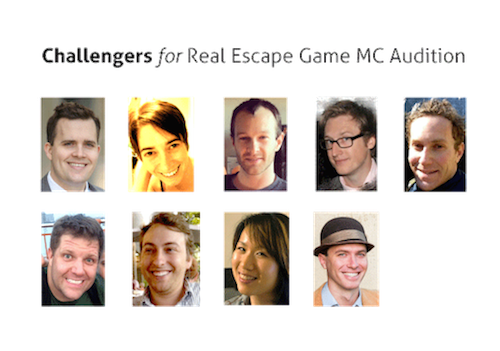 What is a Real Escape Game MC?
The Real Escape Game MC is our Master of Ceremonies, our game host, our enthusiasm booster. They welcome our players, introduce the game and explain the rules, announce the winners, and entertain everyone.

---
Message from Real Escape Game Crew
"Bring your A+ game, smile wide, and get ready for an awesome fun-filled event where we will determine who will be the next REAL ESCAPE GAME MC! "
Dzu, REG MC

 

"Currently our main host, Dzu, presents a great performance to our players. He was a university student at the time, but his energy was outstanding. I thought that his professionalism was reliable so we started to work. He wasn't able to do current level of performance at the beginning. I remember that Dzu and I went to a park near my house for the practice because, hey, we couldn't afford to rent a studio at the time. There was fair skies. Dogs were running around us. We were just nobody but repeated the practice over and over believing that we could build enthusiasm. That was the start.

We grew together with Real Escape Game. Thankfully, Real Escape Game is still growing and more people want to play the games. To meet the demand, we want to meet new hosts. At this audition, we are not looking for a professional MC. If you like to make people happy and want to try building enthusiasm, please feel free to join this event and enjoy the experience to be our host. If this sounds fun and interesting to you, you may already have a potential. It might be easier than you think or easier than escaping our game. See you soon!"
Kazu, Game Designer / CEO



---
When & Where

FIREHOUSE 8
1648 Pacific Ave
San Francisco, CA 94109


Monday, September 22, 2014 from 7:00 PM to 10:30 PM (PDT)
Add to my calendar
Organizer
SCRAP Entertainment Inc.
Headquaters: San Francisco
Real Escape Game™ is an interactive, brain-teasing event that pits players against the clock to uncover clues, solve puzzles and escape from a locked room or story scenario. In 2007, it was the world's first attempt at bringing digital escape games into real life and has since become a global phenomenon. Real Escape Games come in a variety of styles, with different game types designed to run in small rooms, stadiums, theme parks or even across an entire city. Over 3.3 million people have already played worldwide, but our goal is to continue expanding our audience and become a household name in live entertainment. With over 30 unique Real Escape Game editions in the US alone and even more abroad, SCRAP Entertainment has something for everyone.
SCRAP Japan, Headquartered in Tokyo, Japan, has been creating immersive and adventurous puzzle events. In 2007, it produced the world's first live action game, REAL ESCAPE GAME(REG) in Japan. REGs have been held in Japan and other Asian countries in unique places such as multiple schools, ruined hospitals, amusement parks, stadiums, and churches-and the events have built enthusiasm. In Japan, the series of TV drama, Real Escape Game TV and movies are released. SCRAP is pioneering the new genre of Real World Adventure, which has become a driving force in the world.
The first Real Escape Game in the U.S took place in San Francisco in 2012. Another San Francisco game took place on board a ship, which was a world-first. Also, since the opening the Real Escape Room, Escape from the Mysterious Room, over 6,000 people tried their luck at escaping in the first year. Despite the highly challenging difficulty of 2 % success rate, all tickets are continuously selling out. The events get popular among people who love something unique and cool. Real Escape Game™ is a registered trademark of SCRAP.
Real Escape Game Meet-up + MC AUDITION SHOWDOWN!