Event Information
Location
The Astor
1 Chapel St & Dandenong Rd
Windsor, VIC 3182
Australia
Description
Make a reservation at Real Big Things #19 on Friday 25th August...
...because for one morning only we're serving up a buffet of juicy ideas that can only be described as a fusion of food, booze and tech.
If you've never been before, Real Big Things is a series of researched, prepared and engaging short lectures designed to inspire and educate about all things digital and the digital-age. The topics vary, but some of the things we've covered off in our time are things like why we wait in line, how to make a killing on Airbnb and even how to blood dope (don't try that last one at home).
Coming off the back of our raging 18th featuring a whole lotta sex, drugs and rock 'n' roll, we know we've got a lot to live up to. On the menu this time, we've got five speakers dishing out some tasty treats of knowledge. You'll hear theories on the future of food delivery, how to stop eating meat while still eating meat, what it takes to create global demand for a whisky crafted on a tiny island and more.
Did that whet your appetite just a little bit?
Unlike those trendy Melbourne restaurants we're all guilty of frequenting, you won't have to wait in line for a table (read: ticket). In fact, you can get one right here right now.
Nibbles (free coffee & pastries) start from 7:30am at the Astor Theatre. You'll be rolling out the door by 10, with free notebook and pen in hand.

Come starving. Leave stuffed.
See you at the feast!
..//
To see videos from our previous 17 events, visit the Real Big Things Tumblr.
To find out more, visit Real Big Things on Facebook.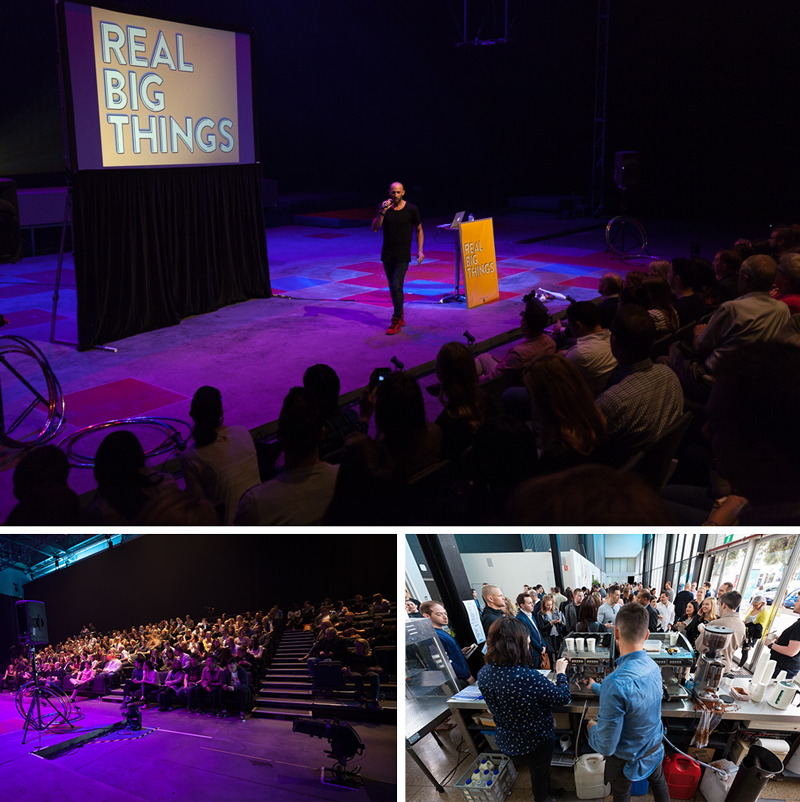 Date and Time
Location
The Astor
1 Chapel St & Dandenong Rd
Windsor, VIC 3182
Australia