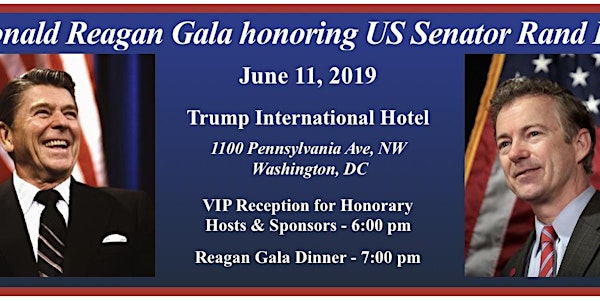 Reagan Gala Honoring US Senator Rand Paul
Ronald Reagan Awards Gala, A Washington D.C. Black Tie Affair Honoring Senator Rand Paul.
When and where
Location
Trump International Hotel Washington, D.C. 1100 Pennsylvania Avenue Northwest Washington, DC 20004
About this event
VIP Reception for Reagan Gala Sponsors 6:00 PM. Reagan Gala Dinner 7:00 PM.
Evan Sayet, a noted comedian, will perform at the gala. Evan has done his political stand-up at the big Reagan dinner at CPAC, many times at David Horowitz's Restoration Weekend, as well as state conventions and scores of other prestigious and important conservative/Republican political gatherings.
When asked what he does for a living, Evan likes to say that he's in the "conservative thought industry." Sometimes those thoughts are delivered through his stand-up, but at other times he's written two speeches for President Trump, was a "policy advisor" and part of Ted Cruz for President's inner circle, is the author of the bestselling book, The KinderGarden of Eden: How The Modern Liberal Thinks. His lecture to the Heritage Foundation on that topic -- which Andrew Breitbart called "One of the five most important conservative speeches ever given" -- remains, some ten years later, the single most viewed talk in Heritage Foundations long and storied history.