Description
Join Out Professionals on Tuesday, January 14th, 2020, at PwC, near Grand Central, for a phenomenal and enlightening seminar with celebrated author, public speaker, and career coach, John Crant of Self-Recruiter®. His innovative approach to think and act like a recruiter... for yourself... has helped thousands achieve career goals they did not think possible.
It's a new year, and you need to learn a New Way to look at speaking, presenting & posting about your career. It's a great way to grow your career and be seen as a thought –– and action–– leader in your field. Your goal is to stand out from the pack and be considered 'just the right one' for that next promotion or opportunity. Be seen as a standout. Be that presentation guru, in person and across your social media and get remembered.
During this seminar, created for Out Professionals, John will share all the secrets to achieving your next career step faster and easier than before. Topics for discussion include:
It's a New Year: Is Your Career Ready?

Think about your career as a 'Lucid Dream' –that you can control

Taking stock of and maximizing your (digital) assets

Becoming the Content Guru of 'You' & thinking like a storyteller

Setting the stage for your next career leap

Be the embodiment of your goal: It's Showtime!
Walk away prepared to take control –with a New Career Campaign! It's all about you & being engaged deeply in your field."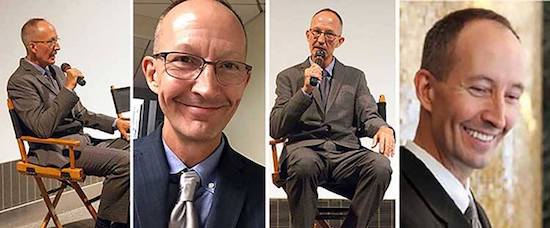 John Crant – As a career coach and expert on job search and career management, John has been featured in Crain's New York Business, The Wall Street Journal and amNewYork, and on CNN, the BBC and Fox News. His Self-Recruiter(R) Lecture Series series is presented at The New York Public Library's Job Search Central. He is the author of the book "Self-Recruiter®: Changing The Rules."
Self-Recruiter is a registered trademark of Provident Resource, Inc. All rights reserved.
---

WHAT'S UP
On Tuesday, January 14, from 7 to 8:30 p.m., an interactive seminar and Q&A with John Crant, "Readying Your New Year Career Leap!"
WHERE
PwC — PricewaterhouseCoopers LLP, 300 Madison Avenue at 42nd Street, Room C1305. Subway: 4/5/6 or S to Grand Central Terminal.
ADMISSION
Nonmember, $30. Dues-paying OP Member, just $20. Dues-paying OP Business Member, free with advance registration. Register now to guarantee seating. Advance ticketing ends at 5:00pm on January 13th. Walk-ins welcome, space permitting; cash or card at the door.
JOIN OR RENEW NOW -- ATTEND FREE!
As a registered nonprofit, Out Professionals relies on the continuing support of our Individual and Business Members. Enjoy a 12-month Individual OP Membership PLUS free admission tonight for just $65. Or join Out Professionals as a Business Member ($125) and by registering in advance, enjoy tonight and other selected OP seminars and workshops, completely free! All sales final. As a Member you enjoy free entry at every month's OP.LOUNGE and free or discounted admission at other OP events. Join or renew here — and thank you!