Description
Research shows that women make government more transparent, inclusive and accessible. Women bring different priorities and experiences to public life, including perspectives that have been largely absent in public policymaking. Women change the way government works, and their voices are needed around the country. Ready to Run® is a non-partisan campaign training program to encourage women to run for elective office, position themselves for appointive office, work on a campaign, or get involved in public life in other ways. Rutgers University's Center for American Women and Politics' (CAWP) model curriculum covers fundraising, positioning oneself for elected office, navigating the political party structure, media training, the nuts and bolts of organizing a campaign, mobilizing voters, and crafting a message.
There are two tracks that participants can elect to follow:
Track 1: I'm Ready to Run, Now What? for women planning to run for office immediately.


Track 2: I'm Not Ready to Run Yet, But…for women who want to learn more about different ways to get involved in politics or position themselves for public leadership.
Mississippi is the only state in the United States to never send a woman to Congress and never elect a woman governor. The goal of this program is to inspire women to consider becoming more involved as political advocates in their community and to run for elective office by equipping them with knowledge and expertise specific to barriers women face in politics.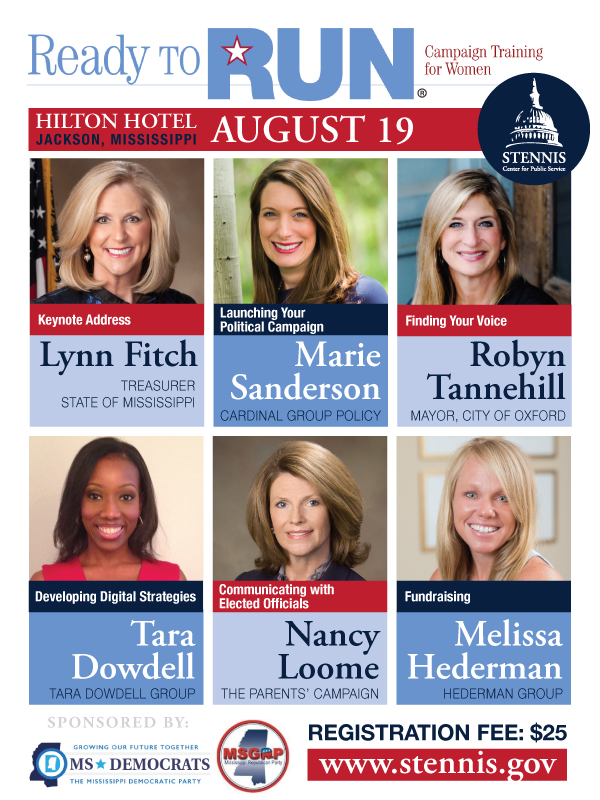 ---
FAQs
Where can I see an agenda of the program?
Updates to the agenda and conference information and reminders will be posted on the Ready to Run (R) Mississippi website.
Do I need to bring my ticket to the conference?
The name of the registrant will be held at the conference registration table on the day of the event, so a paper ticket is not required. If the name on the Eventbrite registration is different than the name of the conference attendee, please contact the Stennis Center for Public Service (contact info below.)
How can I contact the organizer with any questions?
Please contact Jenn Gregory at the Stennis Center for Public Service with any questions you may have at jenn@stennis.gov or (662) 325-8409.