Description
Join us for a magical evening of cocktails, gourmet dining, and avian friends!
Explore the world of conservation on June 2, 2017 when you attend Tracy Aviary's spectacular Ready to Hatch Gala.
Ready to Hatch is the season's best party with a purpose. You'll relax in our lush garden area, among the sights and scents of spring while you celebrate the diversity of our avian residents.
This annual fundraiser is a major source of funding for the Tracy Aviary. Ready to Hatch supports Tracy Aviary Conservation Programs - using research, outreach, and conservation action to protect birds and their habitats. Maintaining this type of excellence – and providing great care for more than 135 species of birds – requires support from our community. Your support helps us introduce more people to the wonders of the natural world in the oldest and largest bird park in the U.S., and helps support the conservation of endangered species.
Ready to Hatch welcomes over 400 guests, giving insights into important conservation programs that impact our local eco-systems. This night showcases the beautiful grounds of Tracy Aviary in full bloom, complemented by live music, a silent auction, hand-crafted local hors d'oeuvres from Meditrina Restaurant, Urban Pioneer Foods, Gastronomy, Laziz Kitchen, Pierre Country Bakery & Cafe, Pop Art Snacks, Pizza Nono and more, with beverage partners including Ogden's Own Distillery, Red Rock Brewing, Vine Lore, Mountain West Distillery, Tea Zaanti, Blue Copper Coffee, and Dented Brick Distillery. Guests are greeted by avian ambassadors with a unique nose-to-beak experience as their memorable evening takes flight.
Ages 21+
Ticket Options:
$100- Includes one adult ticket
Can't make it but still want to support? Donate online at tracyaviary.org/donate/
A special thanks to our generous sponsors: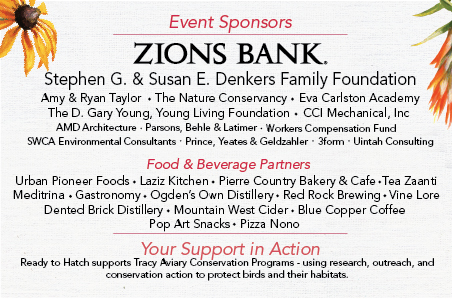 Interested in a sponsorship opportunity? Contact Amanda at AmandaA@TracyAviary.org
Interested in becoming a restaurant or beverage sponsor? Contact Kate at KathrineP@TracyAviary.org
Tracy Aviary inspires curiosity and caring for birds and nature through education and conservation.