Description
Welcome to registration for the District 7 Fall Conference: "Ready. Set. Grow!"

The event will focus on ways to help us adapt, innovate, and thrive when encountering changes.
Accredited Speaker, Johnny Campbell, "The Transition Man" will be our keynote speaker. He will deliver actionable methods for us to employ when we encounter new challenges and opportunities.
Important information: We will need to be going to a security checkpoint to acess the event. Please leave any "hunting equipment" aka "firearms" at home. Also bring an ID for each person in your vehicle, and plan a bit more time to get through the gate. Thank you!
Agenda: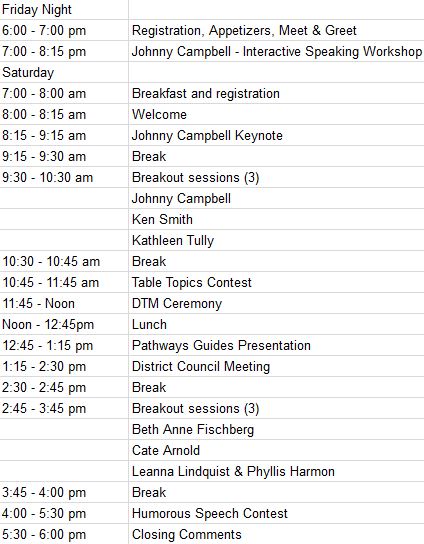 Lodging:
We have a block of rooms reserved for the conference at:
Clackamas Inn & Suites
16010 SE 82nd Dr, Clackamas, OR 97015

Room Rates are $79/ Night + Tax. Ask for the Toastmasters group rate.