Ready or Not, here it comes…Life, Liberty & Your Shot at Happiness (Without Ed!) - a MentorCONNECT Teleconference with Thom Rutledge

Wednesday, September 15, 2010 from 8:00 PM to 9:15 PM (CDT)
Event Details
Event Description: In this teleconference, Thom, with the able assistance of Jeanette H and Cheryl Kerrigan, discusses one of the biggest challenges of eating disorder recovery: what to do with yourself – and your life – when all of your efforts to recover pay off. With solid, authentic recovery comes the question, "Who will I be when I am no longer defined by my eating disorder?" Separating from Ed is only the beginning. If you don't know how to respond to this question, Ed may well maintain a foothold in your life, keeping you just on the outside of full recovery. If the idea of living your life without keeping Ed waiting in the wings, ready to return if you need him, scares you, then most definitely join us for this teleconference.
When: Wednesday, September 15, 2010
What time: 8:00 - 9:15 p.m. Central Time
RSVP to: http://mentorconnectthom.eventbrite.com

RSVP now to reserve your space for this amazing FREE recovery event!
Bio: Thom Rutledge is the author of several books, including Embracing Fear: How to Turn What Scares Us into Our Greatest Gift. His INTRApersonal Therapy methods are used extensively by out-patient and residential eating disorder treatment programs in the U.S. and Australia.

FOR MORE INFORMATION: www.nutshellwisdom.com and join Thom on Facebook
SPECIAL OFFER: Thom's next Beyond Eating Disorder Retreat at Onsite is October 29-31, 2010. Registration has begun, and 20% early registration discount is offered until August 20th. Contact Lizzy Curtis at  800-341-7432 or lizzy@onsiteworkshops.com
This event is sponsored by MentorCONNECT, a pending 501(c)3 nonprofit corporation.
To learn more visit us at: www.mentorconnect-ed.org

CLICK HERE to donate and keep great events like this one happening! Thank you! :-)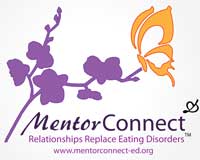 MentorCONNECT is a proud member of:
Organizer
MentorCONNECT is the first global online eating disorders mentoring community. To volunteer as a mentor, be matched with a mentor, or find general recovery support, visit us at:
MentorCONNECT is a registered 501(c)3 nonprofit organization.