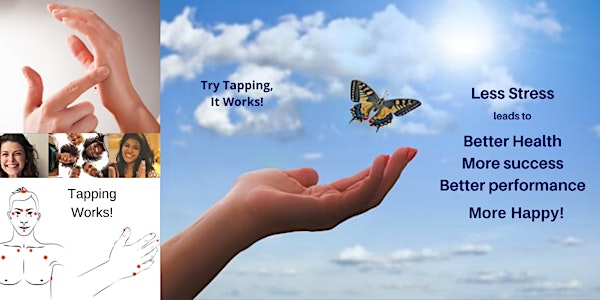 Ready for Less Stress and More Happy?
Life is stressful, and after the last year and a half, more than ever. EFT may be the tool you've been looking for to release that stress.
Refund Policy
Contact the organizer to request a refund.
Eventbrite's fee is nonrefundable.
About this event
Stress affects every aspect of our lives. When we're stressed: thinking clearly is more difficult, we're more likely to snap at friends and co-workers over little things, our sleep and digestion may be impacted, We may have chronic aches and pains. But stress release allows us to undo all that and improve our health outcomes. We can be more in control of our moods and outlook on life, letting go of some of the old stories we tell ourselves about our worth, what is possible for us and even what we're allowed to have!
Please join me for a brief introduction to EFT Tapping. We'll learn by doing; tapping on releasing some of this pandemic stress, or any thing participants may want to feel better about. Stress wears many masks. But once you know how to use EFT the pathway to better moods, health and happiness is clear. Easy enough to learn in a couple of hours, but nuanced enough to tackle almost any stress.
Let's tap and feel better together!
Participants can take the price of this workshop as a discount on my Foundation session, which is a deeper dive so you get all the nuances and how-to's to use tapping effectively, and safely, for yourself at home.
I've used EFT to overcome my own big health challenges, and I know you can too.