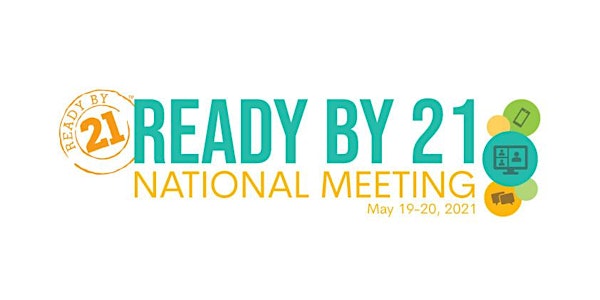 Ready by 21 National Meeting 2021
The Ready by 21 National Meeting brings together hundreds of leaders to get all young people ready by 21 – for college, work, and life.
Refund Policy
Contact the organizer to request a refund.
Eventbrite's fee is nonrefundable.
About this event
Every year, the Ready by 21 National Meeting brings together hundreds of leaders from around the country who are working to get all young people ready by 21 – for college, work, and life. These leaders have dedicated themselves to improving the odds for children and youth through collective impact initiatives, policy alignment, and program quality improvement.
This spring, hundreds of leaders will convene virtually for our 9th annual Ready by 21 National Meeting on May 19-20, 2021. Participants will hear strategies, research, and stories about partnering for better impact, aligning policies, improving program quality and performance, and embracing readiness in the pursuit of equity.
The Ready by 21 National Meeting features stimulating workshops and sessions from top leaders in education, policymaking, advocacy, and out-of-school time. With the goal of ensuring all children and youth are ready by 21, essential topics will be highlighted. The essential topics will include but are not limited to:
Exploring the connection between readiness and robust equity
Creating and supporting equitable learning and development ecosystems
Reconnecting and reengaging young people after COVID disruptions
Fostering social and emotional learning across schools & communities
Improving out-of-school time quality and performance
Supporting quality summer learning experiences
Aligning policies and resources across issues, agencies, and ages
Visit the Ready by 21 National Meeting Event Site to learn more.
Additional Information:
//PRE-MEETINGS
Weikart Center Partner Meeting
Join the Weikart Center team on Tuesday, May 11, from 12pm-3pm ET to hear the latest updates on their work and connect with other Weikart Center partners, prior to the Ready by 21 National Meeting. The schedule will be as follows:
• 12pm-1pm ET: Updates from the Weikart Center
• 1pm-2pm ET: Breakout room discussions
• 2pm-3pm ET: Experience a sample of our new SEL supports for leaders related to Equity and Belonging.
Can't make it for the whole thing? Feel free to join us for the first hour, the last hour, or any time in between! We hope to see you at both the partner meeting and the Ready by 21 National Meeting.
REGISTER HERE for free today!
//SCHOLARSHIPS
We have a very limited scholarship pool available this year, but are committed to enabling as many interested leaders to participate in the Ready by 21 National Meeting as possible. If interested, please send an email to shanell@forumfyi.org to request an application.
//YOUTH TICKET DISCOUNTS
To encourage participation of young leaders more actively this year, the Forum has fifty registrations held at $50 each for young leaders in the field up to 24 years old. Please contact shanell@forumfyi.org if you are a young leader and wish to attend!
//CANCELLATION POLICY
Cancellation Policy: For cancellations submitted by April 30, 2021, your conference registration fees will be refunded 100%. To obtain a refund please email shanell@forumfyi.org. Refund requests will be processed within 48 hours.