Description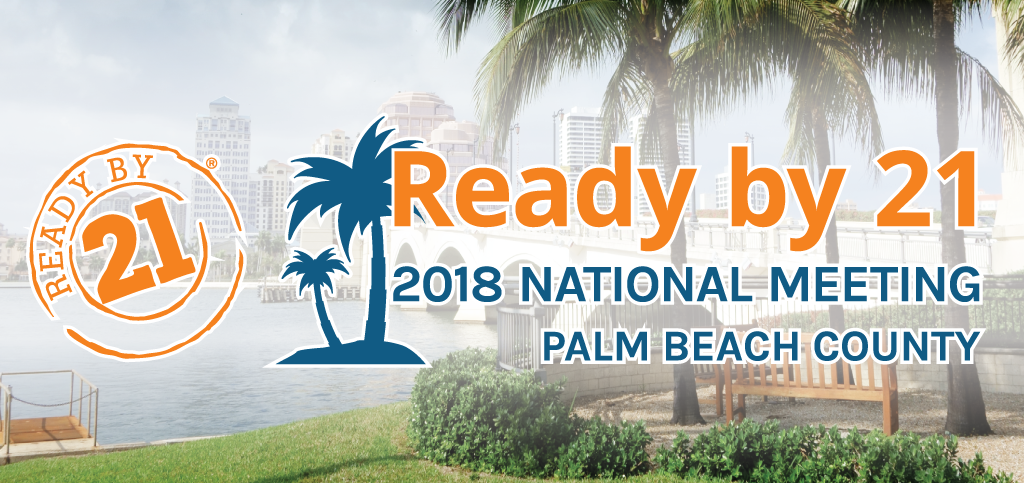 Every year, the Ready by 21 National Meeting brings together more than 500 local, state and national leaders who like you are committed to improving partnerships, policies and practices for children and youth. These leaders manage change at all levels - from state policy coordination and community-wide cradle-to-career efforts to out-of-school time systems, single-issue coalitions and neighborhood-based initiatives. They come from business, nonprofits, education, policy, philanthropy and intermediaries at the national, state and local levels.
Our seventh annual National Meeting will be held in Palm Beach County, Florida and will feature plenty of engaging and exciting sessions. You'll hear about topics, strategies, research and stories in these areas and more:
Strengthening and aligning partnerships

Exploring the connection between readiness and equity

Accelerating data usage at scale

Creating large-scale shared investments in quality

Fostering social and emotional learning across schools & communities

Re-connecting opportunity youth

Creating child and youth master plans

Examining the role of schools and afterschool programs in implementing SEL initiatives
---
Additional Information
//PRE-MEETINGS
Prior to the official start of the 2018 National Meeting on Wednesday, April 18th, the Forum and our partners will be hosting a number of pre-sessions. Registration is required for pre-sessions. We anticipate adding additional pre-sessions in the coming months and will notify conference registrants as new opportunities become available.
Please be sure to read the pre-meeting description in full before registering to confirm the session matches your interests and you meet the participation requirements.
For more information about this year's pre-meetings, please visit here.
//HOTEL ACCOMMODATIONS
You are responsible for booking your own accommodations. Unfortunately, our room block at the Hilton West Palm Beach hotel is now closed and the hotel is sold out.
Since we are unable to secure additional room blocks, we recommend checking for accommodations at the nearby hotels listed below (we cannot guarantee their availability). All hotels listed are 5-10mins away from the Palm Beach Convention Center, with the West Palm Beach Marriott being the closest. As of 4/5/18, the West Palm Beach Marriott also had the best rate.
Hyatt Place West Palm Beach/Downtown
Residence Inn West Palm Beach Downtown


//SCHOLARSHIPS
We have a limited scholarship pool available, but are committed to enabling as many interested leaders to participate in the Ready by 21 National Meeting as possible. If interested, please send an email to shanell@forumfyi.org to request an application.
//CANCELLATION POLICY
Cancellation Policy: For cancellations submitted by March 2, 2018, your conference registration fees will be refunded 100%. For cancellations submitted after March 2 and before April 4, 2018, 75% of your conference registration fees will be refunded. No refund of conference registration fee available for cancellations after April 4, 2018. To obtain a refund please email Shanell@forumfyi.org. Refund requests will be processed within 48 hours.
//SPECIAL ACCOMMODATIONS
The Forum for Youth Investment wishes to ensure that no individual with a disability is excluded, denied service, segregated or otherwise treated differently from other individuals becasue of absence of auxilary aids or services identified in the Americans with Disability Act. Please notify shanell@forumfyi.org of your needs.


// UNITED WAY FLEX CREDITS
Attention United Way Leaders: We are proud to announce that the 2018 Ready by 21 National Meeting has been approved for flex credits.
Organizer of Ready by 21 National Meeting 2018