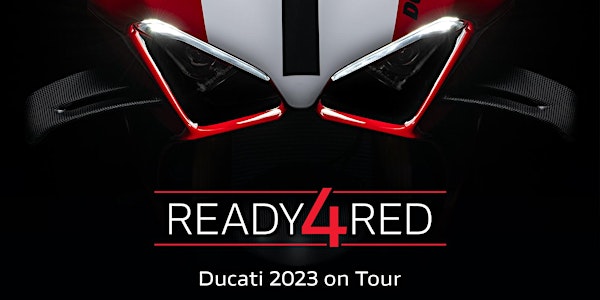 Ready 4 Red | Ducati 2023 on Tour: Canada
Ducati's Ready 4 Red tour is ready to take the country by storm with its new 2023 models.
About this event
The Ready 4 Red tour is back!
Le français continue ci-dessous
We're touring the country showcasing our incredible new products. Get an exclusive, up-close preview of the new bikes before reserving yours. Meet the Ducati Canada team in a city near you to ask any questions you've been itching to ask, all while enjoying antipasti, refreshments, and music. Each stop will provide a unique experience for all guests, so no two stops are the same!
The Ducati team will present the new product, starring the Panigale V4 R, the production specification of our World Superbike Championship-winning machine. This is racing!
Dare to be bold! The new muscular, sporty, and elegant, the Diavel V4 magnetizes attention from all directions. The exhilarating performance of the V4 Granturismo with agile handling dynamics creates this distinctive V4-powered muscle cruiser.
Unlock Earth. The new Multistrada V4 Rally is built to travel further and across more extreme terrain in complete comfort, turning your travels into an out-of-this-world adventure. The revolutionary V4 Granturismo engine with 60,000km major service intervals creates the perfect "round the world" bike.
The Ultimate Formula, the top-of-the-range Streetfighter V4 SP2. This bike is dedicated to riders who crave the highest-level sport naked bike that expresses its full potential on track with exclusive technical equipment that combines the 'Fight Formula" with "SP" specifications.
Mad for fun! The Monster SP brings higher specifications to the Monster family. Monster SP represents all the essence of Ducati in the most compact, essential, and lightweight form possible, now with a special twist.
Next-Gen Freedom! A new generation of Scrambler is here: digitally creative, technologically enjoyable, with the sharpest look in the city. The renewed Ducati Scrambler is more contemporary, more comfortable, and safer, ensuring even more carefree 'Land of Joy' fun!
E-MTB according to Ducati! With the new Mountain bike line-up, Ducati enters the pedal-assist E-Bike segment in Canada. This new line-up embodies the pure Ducati spirit by focusing on design, innovation, and fun in a perfect combination of comfort and performance.
Join this exclusive experience to find your next Ducati. We look forward to sharing this special evening with you to preview the 2023 Ducati models.
All events will take place from 7 PM - 9 PM.
Don't delay and check out our tour stops below and RSVP today.
*Each attendee must register through Eventbrite. Walk-ins cannot be accommodated.
---
La tournée Ready 4 Red est de retour!
Nous faisons le tour du pays pour présenter nos incroyables nouveaux produits. Découvrez en exclusivité les nouvelles motos avant de réserver la vôtre. Rencontrez l'équipe de Ducati Canada dans une ville près de chez vous pour poser toutes les questions qui vous démangent, tout en dégustant des antipasti et des rafraîchissements au son de la musique. Chaque arrêt offrira une expérience unique à tous les invités, de sorte qu'il n'y a pas deux arrêts identiques!
L'équipe Ducati présentera la toute nouvelle Panigale V4 R et les spécifications de production de cette super moto de championnat mondial. Et c'est parti!
Osez l'audace! La nouvelle Diavel V4, d'apparence à la fois musclée, sportive et élégante, attire tous les regards. Les performances exaltantes du moteur V4 Granturismo, associées à une dynamique de conduite agile, propulsent cette moto routière costaude des plus distinctive.
Le monde s'offre à vous! La nouvelle Multistrada V4 Rally est conçue pour parcourir de grandes distances et affronter les terrains les plus difficiles dans un confort total; chacun de vos trajets se transforme en une aventure hors du commun. Grâce au moteur révolutionnaire V4 Granturismo, avec des intervalles d'entretien majeurs de 60 000 km, il s'agit de la moto parfaite pour faire le « tour du monde ».
La « Formule ultime », la Streetfighter V4 SP2 haut de gamme. Destinée aux pilotes adeptes de motos sport dépouillées de très haut niveau, cette moto fait valoir tout son potentiel sur piste grâce à un équipement technique exclusif combinant la « Formule du combat » et les spécifications « SP ».
Un plaisir monstre! La Monster SP rehausse les spécifications de la famille Monster. Le Monster SP représente toute l'essence de Ducati dans la forme la plus compacte, essentielle et légère possible, avec une touche spéciale.
Next-Gen en toute liberté! Une nouvelle génération de Scrambler est arrivée : numériquement créative, technologiquement agréable, avec l'apparence la plus stylée en ville. La Ducati Scrambler renouvelée est plus contemporaine, plus confortable et plus sécuritaire. Prenez la route du « Pays de la joie » l'esprit tranquille!
Les vélos de montagne électriques selon Ducati! Avec sa nouvelle gamme de vélos de montagne, Ducati entre dans le segment des vélos à assistance électrique au Canada. Conception, innovation, plaisir, confort et performance s'allient parfaitement dans cette nouvelle gamme qui incarne le pur esprit Ducati.
Participez à cette expérience unique pour dénicher votre prochaine Ducati. Nous sommes impatients de partager cette soirée spéciale avec vous et de découvrir en exclusivité les modèles Ducati 2023.
Tous les événements auront lieu de 19 h à 21 h.
N'attendez pas et consultez les arrêts de notre tournée ci-dessous et répondez dès aujourd'hui.
* Chaque participant doit s'inscrire via Eventbrite. Il n'est pas possible d'accueillir les personnes qui se présentent spontanément.
Tour Stops
March 09 | Vancouver, BC | The Pipe Shop
March 23 | Toronto, ON | Brick Works - SOLD OUT
March 30 | Montréal, QC | Ducati Montréal
7100, Boulevard Métropolitain Est
About the organizer
Ducati: Authentic Italian Performance. Ducati owns a prestigious position within the motorcycle community, solidified with over 90 years of history and tradition in technology, style, and racing victories. The success and status of our Brand is achieved through our team's devotion to excellence, quality, professionalism, and commitment to victory.