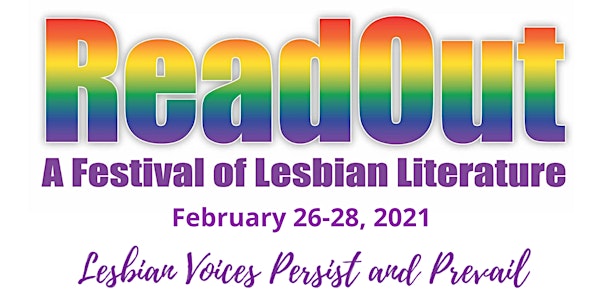 ReadOut 2021: A Festival of Lesbian Literature
ReadOut 2021 is a free festival of literature written by LGBTQA+ authors of all genres who write by, for, and/or about lesbians.
About this event
Please note: emails with the festival Zoom links have been sent to all attendees. If you did not receive this email, please check your email's spam folder, or simply login to Eventbrite and click on "Access the Event" to view the email's content on the event page.
The LGBTQ Resource Center of the Gulfport Library is proud to announce ReadOut: A Festival of Lesbian Literature for its fourth year - in an all new virtual form! The theme for this year's event is Lesbian Voices Persist and Prevail. ReadOut 2021 will be a unique hybrid of live-streamed interactive PODS, prerecorded readings in strings of PEARLS, and PLAYTIME entertainment and chat opportunities between sessions. Entertainment will be provided by lesbian musicians, spoken word artists, and comics. The festival will demonstrate how Lesbian Voices Persist and Prevail in these transformative times.
Renowned lesbian authors including Sally Bellerose, Elana Dykewomon, Sheree Greer, Sue Katz, Rose Norman, Jean Redmann and Susan Stinson are slated to present 90-minute livestreamed PODS (aka panels) on themes such as elder lesbian writings, Black women writers, mystery, fiction and the intersection of friendship and careers as lesbian authors.
The event is free and open to an international audience. For more information, visit: https://readoutfestival.wixsite.com/home.
To view the festival schedule, visit: https://readoutfestival.wixsite.com/home/2021-program.