Readings by the Stone Soup Writing Workshop Students - Fall 2021
Come to our end-of-term event for the Stone Soup Writing Workshop students & hear them read some of their incredible work from Fall 2021!
About this event
The Stone Soup Writing Workshop, founded last year, has held Zoom workshops for an incredibly talented group of young writers. We have had an amazingly creative year together, and we've built a real writers' community of students aged between 9 and 14 years old.
For our Fall session of 2021, we are holding a public reading, where our workshop members will give author readings. They have chosen their favorite work, written during one of the term's workshops.
Come join us to hear this fantastic writing, read aloud in the authors' own voices. We are so proud of all of their work. Don't miss it!
If you're a Writing Workshop student who would like to read your work aloud, please submit the piece you'd like to read to our Submittable category, with a note in the cover letter that specifies that it is a submission for the Fall Reading. Here is a link to the Writing Workshop Submittable category: https://stonesoup.submittable.com/submit/164222/writing-workshop-submissions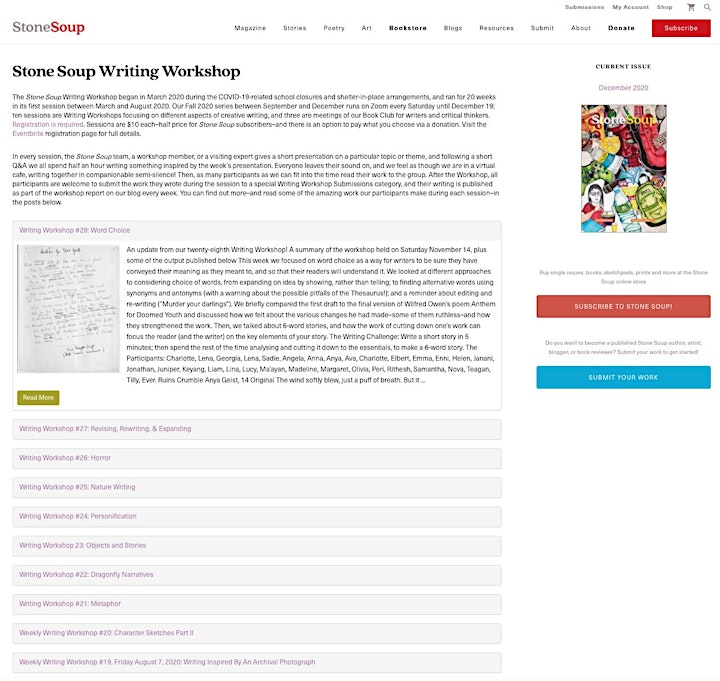 To find out more about the Writing Workshop, and read some of our writers' work, visit their blog pages at https://stonesoup.com/stone-soup-writing-workshop/.
You can also hear from some of the members what they like best about Writing Workshop in the video below.
The Stone Soup staff will be there, along with our Stone Soup authors and workshop participants. We hope many of their family members, teachers and friends will join us and celebrate their achievements this year.
We are so excited to listen to this incredible work with you all!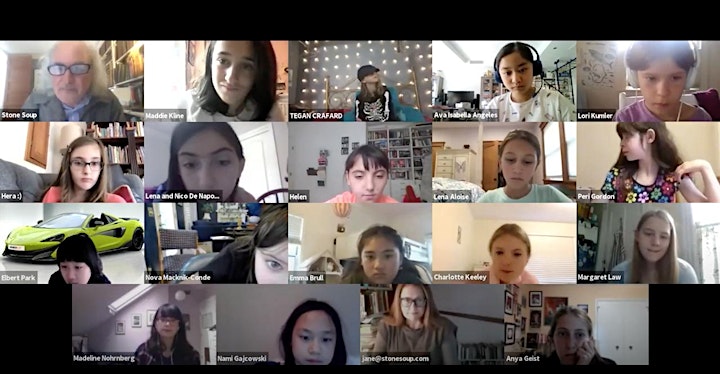 Organizer of Readings by the Stone Soup Writing Workshop Students - Fall 2021