Location
Brown Square
Brown Square
Newburyport, MA 01950
Join us for the annual community read of Frederick Douglass's powerful speech, "What to the Slave is the Fourth of July?"
About this event
The First Religious Society Unitarian Universalist and the Museum of Old Newbury will host an in-person community reading of Frederick Douglass's impassioned 1852 speech, "What to the Slave is the Fourth of July?" Lend your voice to this powerful participatory event.
We will gather near the Garrison statue in Brown Square, Newburyport.
In case of inclement weather, the reading will happen on the same date & time at a nearby indoor location. Registrants will be notified of any change in location.
If you would like to sit, please bring a chair or blanket to the reading.
The speech being read can be found here: https://www.newburyhistory.org/frederick-douglass-speech-medium
The reading will be followed by a discussion led by humanities scholar Katrina "Kat" Hobbs Everett, M.Ed., Co-Founder of Power of Self-Education (POSE) Inc. a community engagement & advocacy nonprofit. She is the founder and curator of COCO Brown, a cultural community healing center and co-working space, and an Adjunct Instructor for the Social Justice program at Merrimack College.
This program is funded in part by Mass Humanities, which receives support from the Massachusetts Cultural Council and is an affiliate of the National Endowment for the Humanities.
About Frederick Douglass
Frederick Douglass was born in 1818 and escaped from slavery in Maryland in 1838. He lived for many years in Massachusetts and at one time worked for the Massachusetts Anti-Slavery Society. He delivered the Fourth of July speech on July 5, 1852, in Rochester, New York, to the Rochester Ladies' Anti-Slavery Society. The most celebrated orator of his day, Douglass' powerful language, resolute denunciations of slavery, and forceful examination of the Constitution challenge us to think about the histories we tell, the values they teach, and if our actions match our aspirations.
Made possible with support from: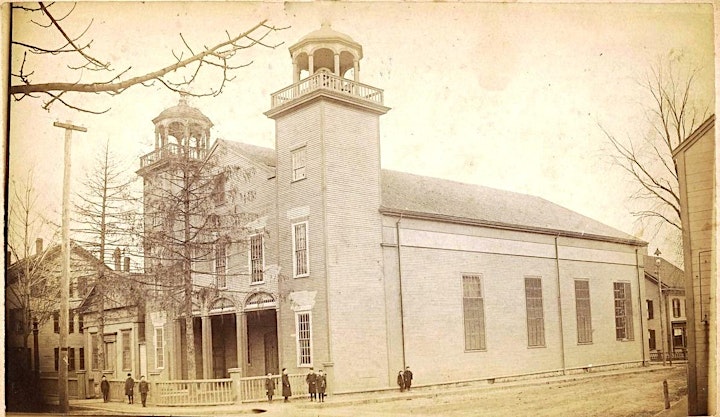 Prospect Street Church where Frederick Douglass spoke to the residents of Newburyport in September 1841. Photo from the collections of the Museum of Old Newbury.