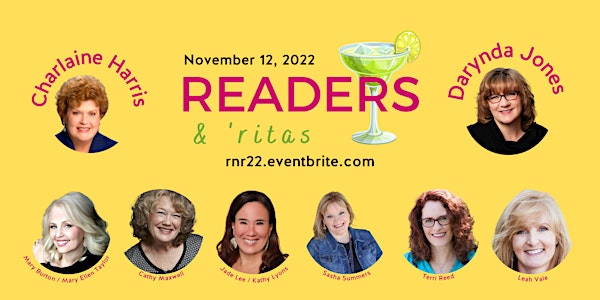 READERS & 'ritas
Readers & 'ritas is a getaway for book-loving ladies like you.
When and where
Location
Blue Mesa Grill 8200 Dallas Parkway Plano, TX 75024
Refund Policy
Contact the organizer to request a refund.
About this event
Join us for:
Delicious meals with an author at every table
Reader Focused panels and interviews
Games with great prizes
Exclusive time spent with authors and other readers
Raffle baskets benefiting The Turning Point
Signature bags stuffed with free books and swag
A private signing with all our authors
Plus goodies to make your time memorable.
Private Signing
No waiting in long lines for 30 seconds of facetime, you'll be able to visit with your favorite author and get your books autographed for your collection.
Authors Attending
Charlaine Harris
Charlaine Harris was born in the Mississippi Delta. Her father was a farmer and then a school principal, and her mother was a librarian. Charlaine was educated at public schools and attended Rhodes College in Memphis, TN.
Two thousand twenty-two will mark Charlaine's forty-first year as a published writer. She has written two stand-alones, and her series include the Aurora Teagarden mysteries, the Lily Bard mysteries, the Sookie Stackhouse urban fantasies, the Harper Connelly urban fantasies, the Midnight, Texas novels, the Cemetery Girl graphic novels (with Christopher Golden), and the Gunnie Rose books, set in an alternate history America. Charlaine has also written many short stories, and together with Toni L.P. Kelner she edited seven themed anthologies (and had great fun).
The television series "True Blood" was based on Charlaine's Sookie Stackhouse novels. Hallmark Movies and Mysteries is still showing a series of movies created about the Aurora Teagarden character, and for two seasons "Midnight, Texas" was on the air. Two of her other series are in production.
Charlaine belongs to several professional organizations and is an avid reader. She and her husband live on a cliff overlooking the Brazos River with their rescue dogs. Charlaine has the joy of being a grandmother, and she attends the Episcopalian church.
Darynda Jones
NYTimes and USA Today Bestselling Author Darynda Jones has won numerous awards for her work, including a prestigious Golden Heart®, a Rebecca, two Hold Medallions, a RITA ®, and a Daphne du Maurier, and she has received stellar reviews from dozens of publications including starred reviews from Publisher's Weekly, Booklist, and the Library Journal.
As a born storyteller, Darynda grew up spinning tales of dashing damsels and heroes in distress for any unfortunate soul who happened by, annoying man and beast alike, and she is ever so grateful for the opportunity to carry on that tradition. She lives in the Land of Enchantment, also known as New Mexico, with her husband of almost 30 years and two beautiful sons, the Mighty, Mighty Jones Boys.
Mary Burton / Mary Ellen Taylor
Mary Burton loves writing suspense, getting to know her characters, keeping up with law enforcement and forensic procedures, morning walks, baking, and tiny dachshunds. She also enjoys hunting down serial killers, which she does in her New York Times and USA Today bestselling novels. Library Journal has compared her work to that of Lisa Jackson and Lisa Gardner, and Fresh Fiction likened her writing to that of James Patterson. When it comes to research, she's known for taking a hands-on approach, whether it means interviewing professionals, attending forensic seminars or studying evidence collection and analysis.
Formerly a Richmond, Virginia native, Mary now resides on the Outer Banks of North Carolina. She's a graduate of Virginia's Hollins University and she worked in marketing before her first book was published in 2000. Today she's the author of thirty-seven published novels and five novellas as Mary Burton and nine works of contemporary fiction as Mary Ellen Taylor, including Winter Cottage, Spring House, Honeysuckle Season, and the upcoming The Brighter the Light.
Cathy Maxwell
Cathy Maxwell's enthusiasm for life graces the pages of her books and are the topic of the talks she gives to readers and writers groups about her chosen career. Originally from Kansas, she now finds herself in Texas! When not writing she is likely to be busy with one of many local charities or packing her bags to research her next novel. Cathy's motto is "travel light" and she enjoys meeting her fans all over the world.
Jade Lee / Kathy Lyons
A USA Today Bestseller, Jade Lee has been scripting love stories since she first picked up a set of paper dolls. Ball gowns and rakish lords caught her attention early (thank you Georgette Heyer), and her fascination with the Regency began. And as a Taurus, she lives to pit a headstrong woman against a tortured hero just to watch them butt heads on the way to true love. Flesh wounds are rare, but the healing and laughter are real. And don't forget Jade's other name, Kathy Lyons. That's Jade's lighter, contemporary side. She writes for Harlequin Blaze merging hawt sex and funny relationships into really great reads.
Terri Reed
Terri Reed's romance and romantic suspense novels have appeared on Publisher's Weekly top twenty-five, Nielsen's Bookscan top hundred, Amazon Bestseller and featured in USA Today. Her books have been finalists in Romance Writers of America RITA contest, National Readers' Choice Award, Inspirational Reader's Choice Award and in American Christian Fiction Writers The Carol Award contest. When not writing, she enjoys spending time with family, friends and doing agility with her dog.
Sasha Summers
USA Today Best-Selling Author Sasha Summers writes stories that celebrate the ups and downs, loves and losses, ordinary and extraordinary occurrences of life. Sasha pens fiction in multiple genres and hopes each and every book will draw readers in and set them on an emotional and rewarding journey. When not writing, she's reading or spending time with her family somewhere in the Texas Hill Country.