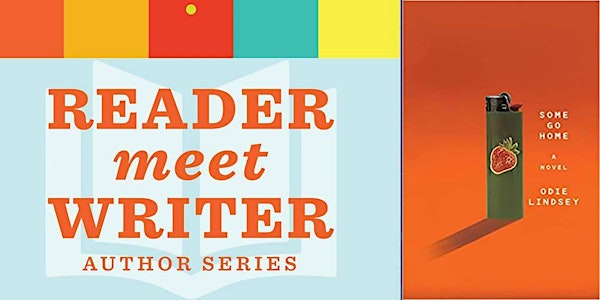 Reader Meet Writer: Odie Lindsey, author of Some Go Home
When and where
Location
Hub City Writers Project 186 W Main St Spartanburg, SC 29306
Description
Join us on Thursday, August 6th at 7:00 PM for Reader Meet Writer with Odie Lindsey! She will be talking with us about her novel Some Go Home and answering your questions.

Sign up through Hub City Bookshop for access to this virtual author event!

• • •

"Lindsey's incandescent debut novel captures a riveting slice of life from the deep South…In dazzling prose, the author lassos complex subjects with acuity, from the legacy of racism in Mississippi to internecine class wars, the horror of combat, and the joy and terror of becoming a mother. This is a consummate portrait of human fragility and grim determination."—Publishers Weekly, starred review

• • •

An Iraq War veteran turned small-town homemaker, Colleen works hard to keep her deployment behind her―until pregnancy brings her buried trauma to the surface. She hides her mounting anxiety from her husband, Derby, who is in turn preoccupied with the retrial of his father, Hare Hobbs, for a decades-old, civil rights–era murder. Colleen and Derby's community, including the descendants of the murder victim, still grapple with the fallout; corrections officer Doc and his wife, Jessica, have built their life in the shadow of this violent act.

As a media frenzy builds, questions of Hare's guilt―and of the townsfolks' potential complicity in the crime―only magnify the ever-present tensions of class and race, tied always to the land and who can call it their own. At the center of these lingering questions is Wallis House, an antebellum estate that has recently passed to new hands. A brick-and-mortar representation of a town trying to erase its past, Wallis House is both the jewel of a gentrifying 2010s Pitchlynn, and the scene of the 1964 murder itself. When fresh violence erupts on the property grounds, the battle between old Pitchlynn and new, between memorial site and moving on, forces a reckoning and irreparable loss.

Some Go Home twists together personal and collective history, binding north Mississippi to northside Chicago, in a richly textured, explosive depiction of both the American South and our larger cultural legacy.

• • •

Odie Lindsey is the author of Some Go Home and We Come to Our Senses: Stories. He received an NEA fellowship for combat veterans, holds an MFA from the School of the Art Institute of Chicago and an MA from the University of Mississippi, and is writer-in-residence at Vanderbilt University's Center for Medicine, Health, and Society. He lives in Nashville, Tennessee.