Join us for an online event with Kate Clayborn Thursday, March 4 at 6:00 PM CST to discuss LOVE AT FIRST.
About this event
CLICK HERE to pre-order LOVE AT FIRST from Novel's website, call us at (901) 922-5526, or stop by for your copy when the book releases on Tuesday, February 23!
ABOUT THE BOOK:
One of Goodreads Hottest Romances of 2021!
"The most delightful cast of characters I've met in ages…a modern romance masterpiece."
—New York Times bestseller Christina Lauren
A sparkling and tender novel from the acclaimed author of Love Lettering, full of bickering neighbors, surprise reunions, and the mysterious power of love that fans of Christina Lauren, Sarah Hogle, and Emily Henry will adore.
Sixteen years ago, a teenaged Will Sterling saw—or rather, heard—the girl of his dreams. Standing beneath an apartment building balcony, he shared a perfect moment with a lovely, warm-voiced stranger. It's a memory that's never faded, though he's put so much of his past behind him. Now an unexpected inheritance has brought Will back to that same address, where he plans to offload his new property and get back to his regular life as an overworked doctor. Instead, he encounters a woman, two balconies above, who's uncannily familiar . . .
No matter how surprised Nora Clarke is by her reaction to handsome, curious Will, or the whispered pre-dawn conversations they share, she won't let his plans ruin her quirky, close-knit building. Bound by her loyalty to her adored grandmother, she sets out to foil his efforts with a little light sabotage. But beneath the surface of their feud is an undeniable connection. A balcony, a star-crossed couple, a fateful meeting—maybe it's the kind of story that can't work out in the end. Or maybe, it's the perfect second chance.
"Will and Nora's chemistry and the quirky side characters keep the pages turning. Clayborn's fans will be pleased."—Publishers Weekly
ABOUT THE AUTHOR:
KATE CLAYBORN is the two-time RITAⓇ Award-nominated author of highly acclaimed romantic comedies, including Love Lettering, Love at First, and the Chance of a Lifetime series. Her novels have been named Best Romances of the Year by O, The Oprah Magazine, Entertainment Weekly, The Washington Post, Buzzfeed, Romper, and more. She lives in Virginia and can be found online at KateClayborn.com.
Please note: We will be using Zoom for this event. If you haven't used Zoom before, you can familiarize yourself with the controls and how to join events on their website here: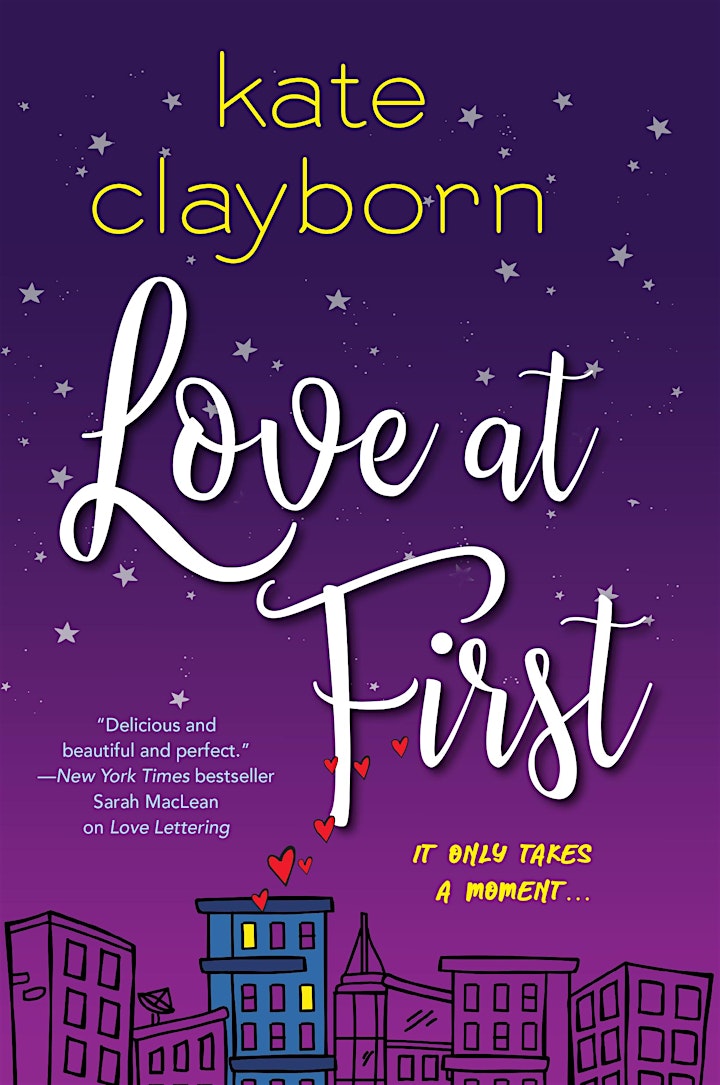 Organizer of READER MEET WRITER: KATE CLAYBORN