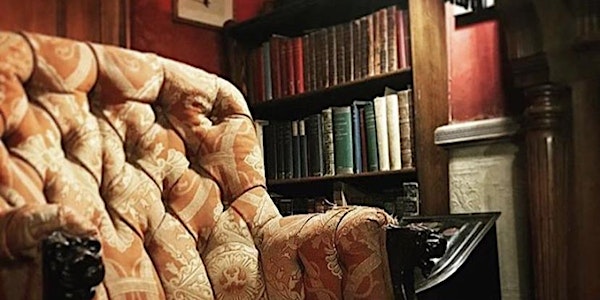 Read the Room Book Club: "The Bostonians" at Gibson House Museum
The Nichols House Museum and Gibson House Museum are excited to announce a new book club!
Refund Policy
Contact the organizer to request a refund.
Eventbrite's fee is nonrefundable.
About this event
Inspired by the literary salons once hosted in the Nichols House Museum and Gibson House Museum parlors, our Read the Rooms Book Club welcomes both those new to the museums and our familiar friends.
The book club will meet twice a season for group discussion followed by a tour of the host museum. Participants can expect to read a mix of Victorian-era and contemporary fiction (and even the occasional volume of poetry), and each month's book selection will reflect some aspect or theme of the respective museum.
Participants will be given a list of discussion questions the week prior to the event, and each event will highlight particular objects or spaces at the host museum that connect to the book. Programs will take place virtually this fall; participants will be invited to meet on-site when it becomes safe to do so. Space is limited, and advanced registration is required. Registration is free for Nichols House Museum and Gibson House Museum members and is $12 per meeting for non-members.
We're thrilled to offer a very special joint membership in conjunction with the book club: join both museums for $60 (a savings of $35) and receive free access to the book club as well as member benefits at both museums!
Image: Gibson House Museum parlor.
Winter 2020
Date: Wednesday, December 2
Time: 6:00–7:30 p.m.
Book: The Bostonians by Henry James (1886)
Location: Virtual, hosted by the Gibson House Museum, home of writer Charles Hammond Gibson, Jr.
Host: Meghan Gelardi Holmes, Curator, Gibson House Museum
Book summary from Penguin Random House:
This brilliant satire of the women's rights movement in America is the story of the ravishing inspirational speaker Verena Tarrant and the bitter struggle between two distant cousins who seek to control her. Will the privileged Boston feminist Olive Chancellor succeed in turning her beloved ward into a celebrated activist and lifetime companion? Or will Basil Ransom, a conservative southern lawyer, steal Verena's heart and remove her from the limelight? The Bostonians is one of James's most provocative and astute portrayals of a world caught between old values and the lure of progress.
Discussion will focus on the changing social world of Boston's elites at the end of the nineteenth century. We will also consider early feminism and the "Boston marriage." And, of course, we will talk about material culture, both in the book and at the Gibson House.
The Gibson House was featured in the 1984 film version of the book, starring Vanessa Redgrave and Christopher Reeve, which the New York Times called "a rare delight, a high comedy with tragic undertones." (And we won't tell if you just watch the movie and come to book club anyway!)
Purchase The Bostonians through your local bookstore or online through the local-bookstore network, Bookshop. An ebook version is free through Project Gutenberg.
Fall 2020
To register for this meeting/tour visit separate Eventbrite, here.
Date: Wednesday, October 21
6:00–7:30 p.m.
Book: Lolly Willowes by Sylvia Townsend Warren (1926)
Location: Virtual, hosted by the Nichols House Museum, home of garden designer, writer, suffragist and pacifist Rose Standish Nichols
Host: Laura Cunningham, Curator of Collections and Education, Nichols House Museum
Book summary from The Guardian:
Sylvia Townsend Warner's 1926 novel Lolly Willowes is an act of defiance that gladdens the soul. Put simply, it's the story of a woman who becomes a witch – but it will subvert any expectations prompted by that synopsis as gleefully as it subverts every theme it touches on: gender roles, family love, social convention, religious propriety. Read the full article, here (no spoilers).
Discussion will center around the book's feminist themes as they relate to the history of the Nichols House and the life of Rose Standish Nichols (1872–1960). Settings and imagery in the book will be compared to the Nichols House Museum period rooms. The life of Sylvia Townsend Warren will also be a topic of conversation.
Purchase Lolly Willowes through your local bookstore or online through the local-bookstore network, Bookshop.