Description
Dedicate this one weekend to React.js and learn how to utilize it's power in your own personal development or at work.


FREE LUNCH BOTH DAYS!


Course Summery
After being open-sourced in 2013, React has quickly grown into the most popular JavaScript library in use today. Now is the perfect time to familiarize yourself with this burgeoning front-end technology.
This course is intended for developers with intermediate JavaScript experience who want to understand the fundamentals, principles, and capabilities of React.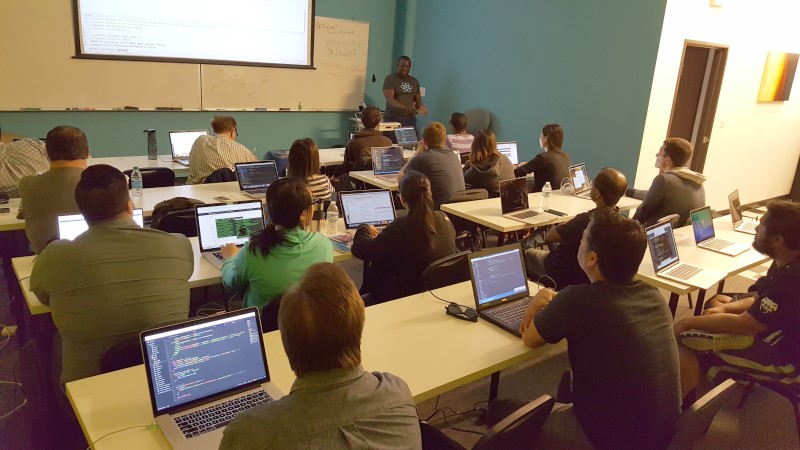 Immediately Start Implementing React.js
You will learn development principles of the React.js framework by diving hands-first into working examples. You'll learn how to build web apps that are highly interactive and easy to maintain. You will gain the skills you need to immediately implement React.js in your applications using professional test-driven development tools and methodologies.


Senior Software Engineer and Instructor, Troy Miles will guide you through the development of a real-world application using React and AWS. By the end of the workshop you will have a good idea of what ReactJS is and how you can use it in your JavaScript applications.


Benefits of React.js
Created and maintained by Facebook

Provides out of the box developer tools

Allows faster rendering with Virtual DOM

React.js facilitates prompt rendering giving it a significant advantage over other frameworks
Yes, it will be a long weekend, but you WILL be taught React.js!



Instructor, Troy Miles
Troy Miles is a Senior Software Engineer and Lynda.com instructor. He is exceptionally skilled at full stack. He posses deep knowledge of the following frameworks: AngularJS, jQuery, jQuery Mobile, PhoneGap, Backbone, Ember, Jasmine, and Mocha.
===============================================

Prerequisites
All attendees must have an intermediate level of experience with JavaScript.


System Requirements & Development Environment
Participates should bring a laptop/notebook computer. Mac or PC with any modern web browser installed and working wireless capabilities.

Corporate Group Discount
We offer a 10% discount for groups of 5 or more developers from the same company. Contact us at training@codedistrict.io to take advantage of this offer.