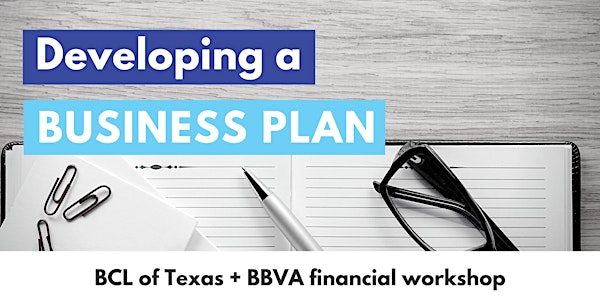 Reaching the Next Level: Business Plans for Sustainable Growth
Join financial experts at BCL of Texas & BBVA to learn the keys you need to create a business plan to help your business thrive.
About this event
Business success doesn't happen on accident. If you're ready to take your business above and beyond, you need a plan to get there.
In this FREE online workshop, seasoned experts will share their advice for creating a business plan -- and you'll leave the class with a first draft of a business blueprint.
Topics covered in this session:
The seven essential parts of a good business plan
Key considerations for business planning
How lenders and investors use business plans
Understanding your market
And more!
Plus, you'll have the chance to get all of your questions answered by experienced professionals.
About BCL of Texas
BCL of Texas is a 501(c)(3) nonprofit economic development organization providing lending, homeownership, entrepreneurship, and community development programs to fulfill our mission of Building Strong Communities across Texas.
About BBVA
BBVA's Center for Financial Education is an initiative to create opportunities for over 15,000 people in 2020 by helping them increase their financial knowledge. Through financial education workshops focused on personal finance, home ownership and small business, BBVA Financial Capability Coaches promote the importance of financial health and share expertise with communities.