Description
Dean of Science Public Lecture
ASU's College of Liberal Arts and Sciences and the School of Earth and Space Exploration present a Dean of Science Public Lecture.
Reaching Proxima b, our closest exoplanet
Join us as we explore the recently discovered, new exoplanet Proxima b. Only four light years away from Earth, our newfound NEAREST neighbor orbits within the habitable zone of its star and could be covered in a liquid ocean. Scientists believe the earth-size planet could be habitable.
What would it take to travel to our new neighbor? And what would we find when we get there?
This lecture will feature a presentation on Proxima b, followed by a panel discussion and Q&A session with local and international experts.
Featured panelists:
Guillem Anglada, Assistant Professor,

School of Physics and Astronomy,

Queen Mary University of London; planet hunter and lead of the team that discovered Proxima b.
Laura Schafer, Postdoctoral Researcher, School of Earth and Space Exploration at ASU; leading expert on planet habitability.
Phillip Lubin, Professor, Department of Physics, UCSB; leader in interstellar/deep space technologies, including sending probes to the Alpha Centauri system.
Evgenya Shkolnik, Assistant Professor, School of Earth and Space Exploration at ASU; leading expert on exoplanets and their host stars.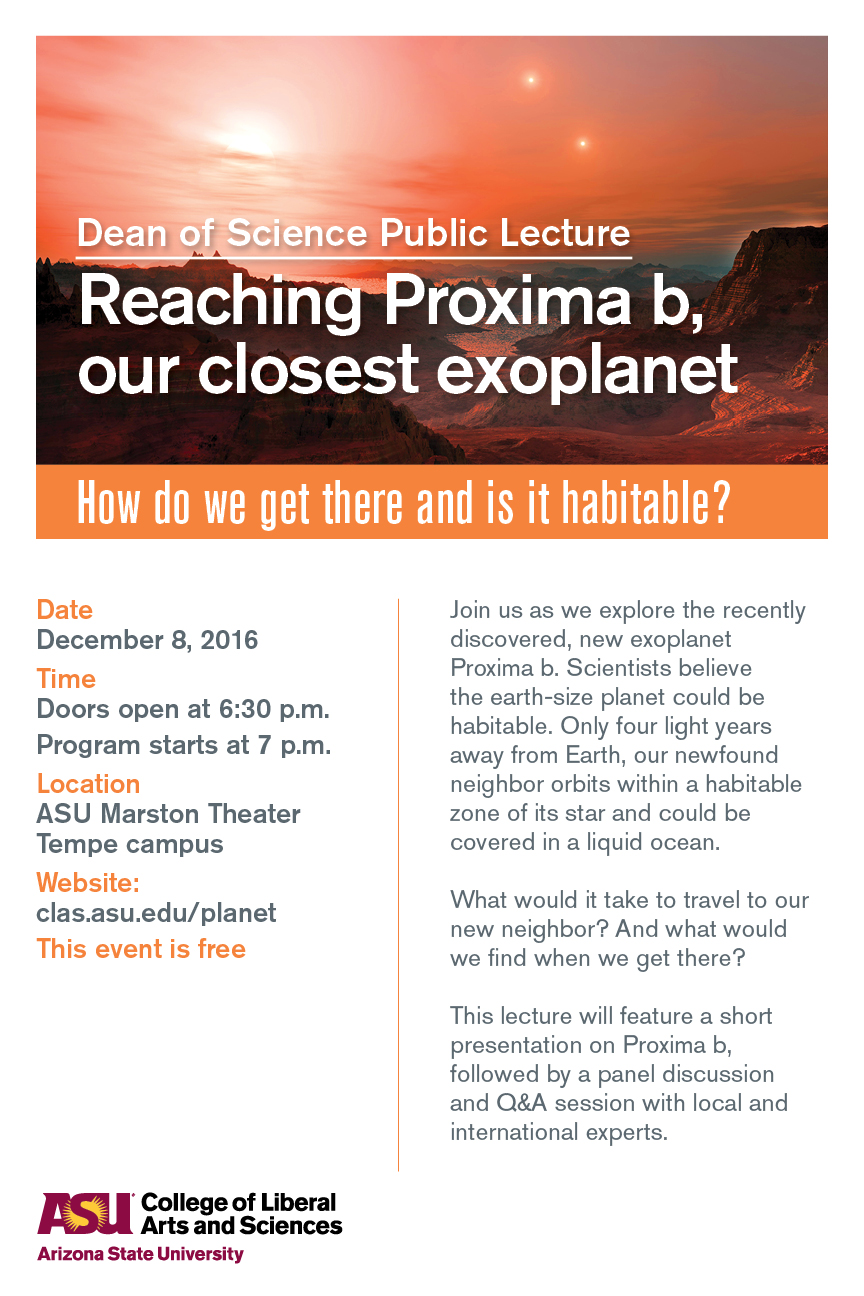 ---
PARKING
The Marston Exploration Theater is located on the first floor of ASU's Interdisciplinary Science and Technology Building IV (ISTB 4), the home of the School of Earth and Space Exploration. ISTB 4 (map) is located near the intersection of Rural and Terrace Road in Tempe on the east side of campus. This seven-story structure is ASU's largest research facility, and is accessible on foot via Orange Street and McAllister Ave. If arriving by Light Rail, exit at the University and Rural Road stop.
Parking is available for $3/hour inside the Rural Road parking structure just east of ISTB 4. From the parking structure, walk west and enter ISTB 4 through the glass doors on the north side of the building. Please note that a parking fee is charged upon exit. There is additional pay parking directly south of ISTB 4 available for $2/hour. There is an automated payment registration kiosk on the parking lot's west side (the corner near the building).
SEATING
Door will open at 6:30 p.m. Seating is on a first come, first served basis.
**Can't make it? Be sure to tune into our LIVE webcast on December 8th!