REACH | The Connected Future

Thursday, February 27, 2014 from 11:30 AM to 11:00 PM (PST)
Event Details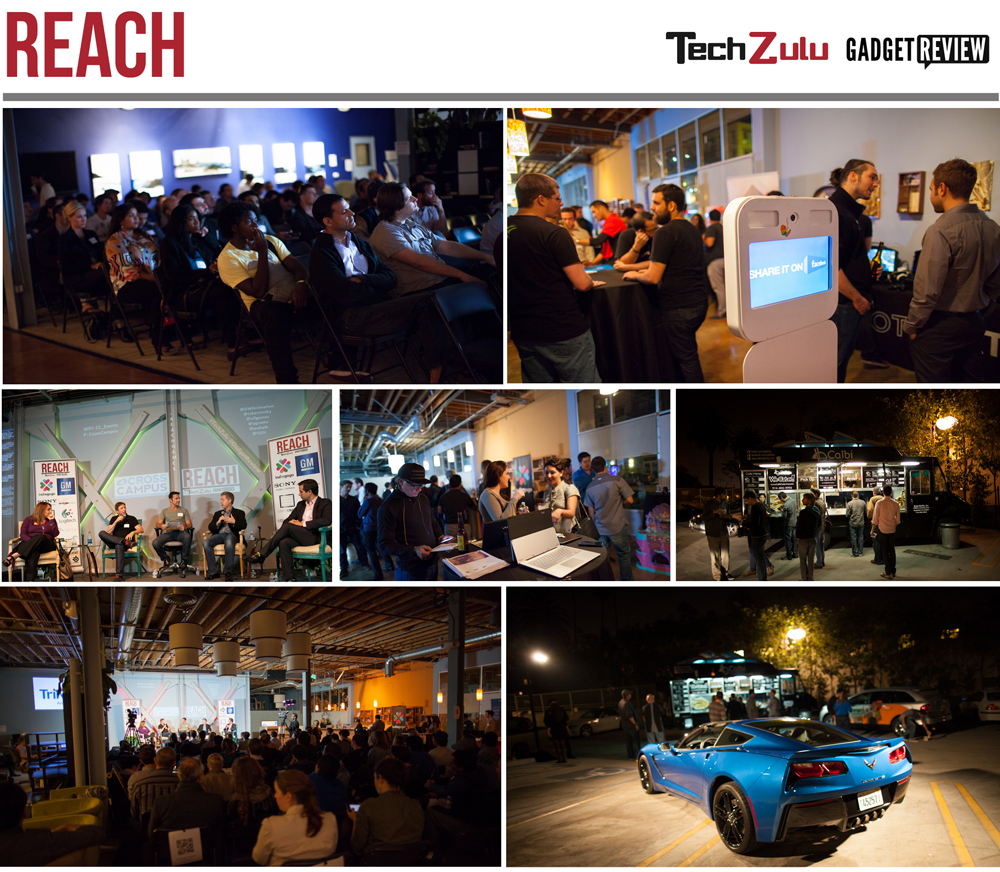 (Photographs by Erica Kawamoto Hsu http://ericakhsu.com/)
Agenda:
12pm: Light lunch and refreshments
1pm: City | Sean Arian of VP of Innovation LA Chamber of Commerce
2pm: Gaming | Chris Denson of Innovation Crush
3pm: Home | Geoffery Emery of DirecTV
4pm: Wearables | Leah Hunter of Wearable World
5pm: Smartphone | Kyle Ellicot of Wearable World
6:30pm: Closing Keynote | Cody Simms of Tech Stars LA
7pm - 11pm: REACH After Party / TechZulu 6yr Extravaganza!! 
Want to know where smartphones are heading? Or how the car infotainment system will change in the near future? Interested in the next big revolution in home connected devices?
Then join us February 27th as TechZulu & Gadget Review present REACH: The Connected Future. During this half day event (including an evening party), you'll get a glimpse into the future of connected devices, courtesy of the industry's thought leaders.
Over the 6 hour day, each panel will be made up of thought leaders in the hardware and software space. Discussions will focus around the then, the now, and the future of our Connected World.
Up to 400 guests will range from some of the web's most influential Journalists, Bloggers, Twitter, Pinterest and Instagram users, founders, VCs, CEOs, captains of industry, early adopters, PR execs and more.
Win a Corvette Stingray C7 For a Week!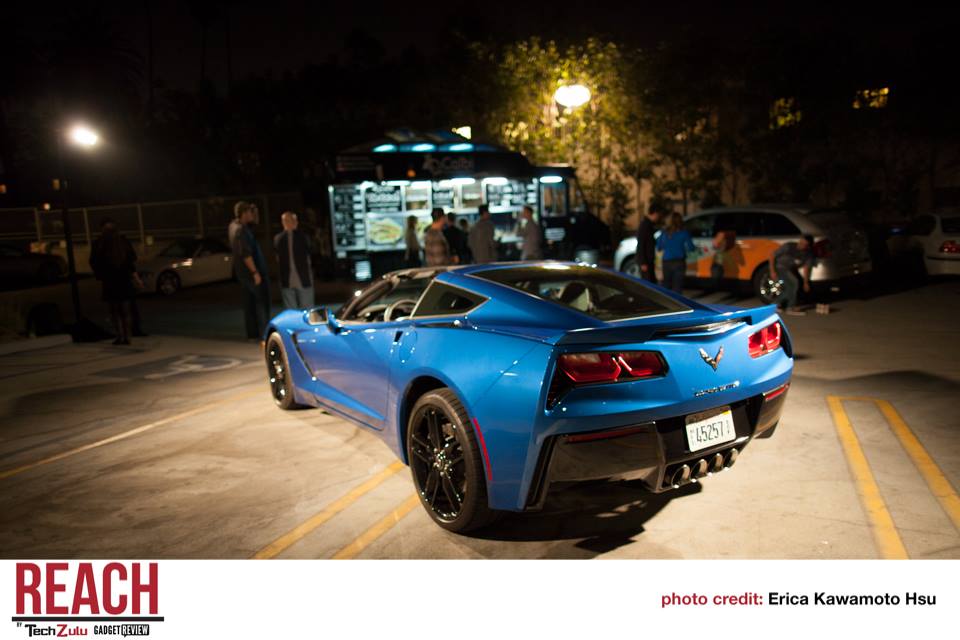 Thanks to GM we are going to be giving one lucky winner the chance to drive in style!
Panel Topics:
City 1pm
Cleantech: "Reports of my death have been greatly exaggerated"
A 60 minutes segment released in January discussed the failure of the Cleantech industry and how government funded energy-startups have been a wasted investment.  You can view this segement here.  Although this report has already been heavily criticized for use of incorrect facts and incomplete research, it still reflects a lot of misunderstanding from the general community on the state of cleantech.
This panel will dispel a lot of the myths surrounding the cleantech industry with a balanced perspective from local VCs, universities, incubators and startups. What is the state of the cleantech industry in Los Angeles?  How has a more diverse profile of energy sources created a more interconnected grid?  How will the interconnected future embrace technology like solar, energy storage and energy-effiency along with better consumer-oriented services? Most importantly, how will we support the pioneering companies who are developing this technology? 
Moderator:
Sean Arian, VP of Innovation, Sustainability and Emerging Technology, LA Area Chamber of Commerce
Panelists:
Sandra Itkoff, Entrepreneur in Residence, UCLA Institute for Innovation and Technology Transfer
Mike Swords, Executive Director of Strategic Research Initiatives and Global Partnerships, Office of the Vice Chancellor for Research, UCLA
Ian Harris, VP Partnerships, LA Cleantech Incubator
Tom Soto, Managing Director/Investment Committee Member, TCW/Craton
Gaming 2pm
Connected Gaming:  All Your Future Are Belong to Us
Moderator:
Chris Denson, Creator/Host of Innovation Crush
Panelist
Robin Kaminsky, EIR at Rustin Canyon Partners, former EVP of Publishing at Activision 
Scot Rubin, Founder of G4TV, Founder of Nitropod 
Jason Yim, CEO, Trigger Global 
Daniel Busby, Lead Engineer at Two Bit Circus
Seamus Blackley, Founder at Innovative Leisure
Home 3pm
Your Digital Home the on-ramp to the Internet of things
Is the digital home the on-ramp to the Internet of things? In this panel we will discuss the current status of this nascent industry and the hurdles facing its broad adoption. Topics will include fragmented communication, home automation hubs, security, and what's coming next.
Moderator:
Geoffrey Emery, DirecTV
Panelist:
Andrew Thomas, Founder of Skybell
Peter Taylor, Senior Product Manager of Belkin Wemo
Robert Poor, VP Marketing & Chief Science Officer at weMonitor
Wearables 4pm
The Marriage of Hardware and Software: Love, Hate, and Commitment
Designing wearables that make a difference in people's lives takes a balance of hardware, software, and business skill. We'll hear stories from people in all three spaces about the joys and challenges of working with data -- and other humans -- to make technology matter.
Moderator:
Leah Hunter, Co-Editor of Wearable World
Panelist:
Grant Hughes, CEO of FocusTrainr
Adam Chapnick, Principal/Evangelist of Indiegogo
Johan Herrlin, Senior Business Strategist at Esri
Smartphone 5pm
Can you hear me now?
As we progress towards a more connected future, what role does the smart phone play? Do we begin to replace its function as a phone and instead turn it into nothing more than a modern day remote control? Will we begin to see a deeper divide between software (operating systems), hardware, and their relating app stores? Find out...
Moderator:

Kyle Ellicott, Founder of Wearable World
Panelist:
Ken Muche, Verizon Wireless
Abel Cuskelly, Founder at Pogoseat
James Pikover, Product Manager at Calaborate
Adam Chapnick, Principal/Evangelist of Indiegogo
Keynote 6:30pm
Building A Product Culture
Cody Simms, Managing Director Techstars Los Angeles

Want To Sponsor?
We currently have sponsorship slots open If you would like to be part of this amazing event and show your support for REACH and the community. Contact us at sponsor@techzulu.com
Sponsorship Opportunities for Events, and other channels
Sponsored giveaways and contests
Custom ad deals and partnerships
Attendee List
Sort by:

Date

|

First Name

|

Last Name
When & Where

Dave & Buster's
6081 Center Dr
Los Angeles, CA 90045


Thursday, February 27, 2014 from 11:30 AM to 11:00 PM (PST)
Add to my calendar
Organizer
TechZulu is an independent news organization delivering an insightful story of the technology industry by showcasing the very people creating it.
Gadget Review covers the latest gadget news, reviews and tech deals.
Partners